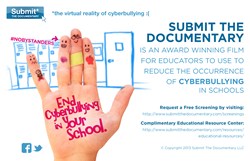 We quickly realized we were unprepared or naive
Atlanta, GA (PRWEB) July 19, 2013
For more than a decade, cyberbullying has been around and has mutated in its various forms and tactics. Yet even after all this time, so few adults really have a grasp on what it is and how to properly deal with it. "We quickly realized we were unprepared or naive," says Les Ottolenghi the narrator of "Submit the Documentary", echoing the sentiments of millions of educators and parents around this issue.
Anyone who spends the time watching this movie will instantly get clued in. Geared to adults, Submit defines how it works, how bystanders typically respond and how anonymity breeds behavior that would never be acceptable face to face. Using clips from TV news programs, interviews from experts, parents, school groups and victimized teens, it provides a 360-degree perspective that tackles an issue typically under everyone's radar and exposes its various moving parts to the harsh, glaring light–exactly what needs to happen. Probably the most compelling parts of this movie come from the targets of cyberbullying themselves, including an in-depth interview with Tina Meier, whose daughter, Megan Meier chose to take her life at 13, becoming the first nationally known victim of cyberbullying.
A chilling quote from Ms. Meier as she relays Megan's last moments of emotional distress is exactly why this cyberbullying should be a wakeup call to parents everywhere. "Mom, they're being horrible to me, I can't even explain it to you," said Megan. "You're going to have to see it for yourself."
And this is the crux of the issue. Kids can not necessarily explain it. If one is not technologically savvy, if parents don't know how someone can digitally alter someone's photo off Instagram or how a Facebook Imposter Profile is built, or how a Digital Pile On happens or why teenagers are sexting for validation or how "someone can bully someone over the Internet" as so many Gen Xers and Baby Boomers have blithely questioned, parents are not going to know how to protect them when they need your help the most. Submit The Documentary provides incising insight into how cyberbullying happens and who should be taking responsibility to address it (schools), prevent it (parents/communities) and enforce its consequences (police and lawmakers.)
Kay Stephens goes on to explain, "If you feel overwhelmed or confused about how to understand cyberbullying (and how it could potentially target children), invest one hour of your life watching Submit The Documentary and clue yourself in on how all the moving parts of cyberbullying work (from the subculture of teens' social media use to the ways schools, parents and lawyers are handling it). Parents can't defend against it if they do not even know what to look for."
This film is now available for free private screenings through the website http://www.submitthedocumentary.com/screenings
More information about Submit the Documentary
http://issuu.com/submitthedoc/docs/submit_epkjuly2013
Cyberslammed is now available through their website
http://www.cyberslammed.com/index.html
About SUBMIT THE DOCUMENTARY LLC
Submit the Documentary is an award winning movie that educates and provides solutions to cyberbullying, sexting, and bullying.
About Cyberslammed co-author Kay Stephens
Kay Stephens is an author and a freelance writer with more than 20 years of experience working with teens and tweens in New England as a mentor and educator. A regular contributor to Maine newspapers and magazines, she also runs her own creative content and social media business and is currently at work on young adult novels with a cyberbullying theme.