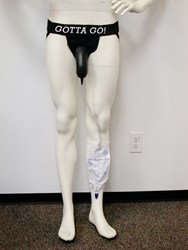 People probably don't realize how many men could benefit from GottaGo
Los Angeles, CA (PRWEB) July 19, 2013
Everyone has to pee, but not every man has a chance to get to the restroom. That is changing with GottaGo Personal Care Device and their newly-launched Indiegogo campaign. Users now have the opportunity to get the GottaGo for a limited time at a special rate via Indiegogo and be part of the creation of a whole new product: the new, fully disposable GottaGo. GottaGo launched its Indiegogo campaign to make sure no man has to urinate in a bottle or wear an adult diaper ever again.
GottaGo is a product that to many looks funny but truly fulfills a need people don't really like to talk about. GottaGo gives men a new option on handling their bladder issues when a bathroom is not available.
"People probably don't realize how many men could benefit from GottaGo," says creator Roderick Calhoun. "I brought this product to Indiegogo hoping to create support of a product that I have a lot of passion for because I invented and used it."
Via Indiegogo, GottaGo is giving customers the opportunity to get the Gotta Go products at a discount. All funds will directly help GottaGo expand their business to further assist customers who use GottaGo such as law enforcement officers, survivors of prostate cancer, truck drivers and those with urinary incontinence, which improves quality of life overall. With the funding from Indiegogo, GottaGo will also be able to manufacture a new, fully disposable GottaGo.
Not only will supporters be the first to get the brand new fully disposable GottaGo, but they'll be able to get a great deal on the Original GottaGo and the limited edition Contour GottaGo. For only $20 backers will be the first to get the disposable GottaGo. The first fifty supporters at the $30 level will get the original GottaGo, and the first fifty supporters at the $40 level get a limited edition contour. Only 50 supporters get these special prices.
By supporting Gotta Go and getting them to their $25,000 goal, individuals will have a chance to make a positive impact on the qualify of life for men around the world. So whether purchased to fit a need or as a gag gift, the GottaGo is an interesting product that will provide positive benefits to men around the world. Visit the Indiegogo campaign to learn more about GottaGo and how to become a supporter.