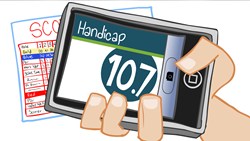 9 Hole round are more popular these days
Miami, FL (PRWEB) July 19, 2013
There is continuous development efforts in TheGrint headquarters. The latest addition to the TheGrint Golf Handicap Tracker is the ability to track 9 hole rounds.
Golfers are playing 9 hole rounds more than ever. As people have less free time and a golf becomes a more popular sport for the younger generation, the need to be able to play in shorter period of times becomes greater. Spending 4 hours on a 18 hole rounds is more and more difficult these days. Especially for folks who want to play late afternoon rounds during the week.
TheGrint team recognized that need and launched this feature. Previously you could post 9 hole round scores through the TheGrint website, but could not track scores while playing with the app. 9 hole USGA compliant golf handicaps are now also available for golfers.
The team is now focused in new development including more performance stats and a more powerful activity feed and social features.
For more information about TheGrint email at contactus(at)thegrint(dot)com