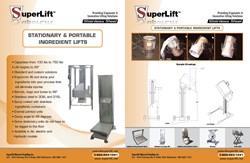 Providing Ergonomic & Innovative Lifting Solutions
Kitchener, Ontario (PRWEB) July 18, 2013
Superlift Material Handling has been providing custom, ergonomic and innovative lifting solutions including stainless steel manlifts and lift trucks for the food, pharmaceutical and chemical industries for over ten years.
We now offer stationary & portable ingredients lifts that can be used to lift heavy loads in capacities from 50 lbs to 4000 lbs, to a maximum height of 96". This new product offering expands the Superlift product line for the food and pharmaceutical industries as well as any company that may require the dumping of loads to 160 inches of dump height and higher.
Ergonomically lift and dump your ingredients into your process and eliminate the possibility of injuries. Our stationary & portable ingredients lifts can be used with items ranging from barrels, bags and boxes. All lifts are offered in 304L and 316L stainless steel as well as enamel paint and steel epoxy coatings. Available in Air, electric and Hydraulic models.
Superlift Material Handling Inc. also manufacturers stainless steel lift tables, stackers, column lifts, vertical material lifts, manlifts and clean room elevators where sanitation is important to the companies.
Literature is available in English and Spanish.
Contact Superlift for more information and quotations on stainless steel lifts of any capacity and style.
Superlift is looking for new distributors around the world as well as manufacturer representatives, and private label associations. Contact us for further details.