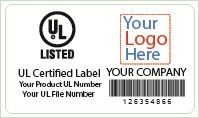 One stop location for certified labels!
Benton City, WA (PRWEB) July 23, 2013
Rippedsheets.com is adding more and more options for certified labels. These include RoHS, WEEE, CONEG, UL, Mil-Std, and FSC certified labels. Rippedsheets.com sheet fed printing inks in its facility are also RoHS compliant and UL approved.
UL
A UL label must meet the stringent specifications set forth by Underwriters Laboratory and Rippedsheets.com offers several different materials that meet these UL requirements. Our UL materials have been tested and approved for dozens of applications, indoor and outdoor, in a wide range of environments. Beyond just providing materials with UL certifications, Rippedsheets.com is an authorized UL label marker and can print full color UL labels, including serialized data.
WEEE and RoHS
The objective of the WEEE (Waste Electrical and Electronic Equipment) directive is to prevent waste from various electrical and electronic equipment when it has reached the end of its useful life. The directive sets targets for collection, recycling and recovery for all types of electrical products.
The Restriction on Hazardous Substances Directive, RoHS, which accompanies the WEEE Directive, is concerned with banning the use of six hazardous substances, commonly used in electronic equipment. Any RoHS compliant component is tested for Lead, Cadmium, Mercury, Hexavalent chromium, Polybrominated biphenyls, and Polybrominated diphenyl ethers.
Rippedsheets.com offers more than 30 different RoHS compliant label materials that are laser printable, some of which are also inkjet printable. There are metallic, waterproof, tamper-evident, reflective labels, and many more. Any NFC inlay can also be inserted into these labels.
CONEG
CONEG stands for Coalition of Northeastern Governors and consists of the states of Connecticut, Maine, Massachusetts, New Hampshire, New Jersey, New York, Rhode Island, and Vermont. Each state has modified the regulation to a certain extent, but the main objective of the CONEG legislation is to reduce the levels of Lead, Mercury, Cadmium, and Hexavalent chromium in any package or package component. Manufacturers must include a Certificate of Compliance with the package, stating that the package complies with the requirements.
There are over 10 CONEG compliant label materials offered that are laser printable, a few of which are also inkjet printable. There are metallic, glossy, clear, and color labels available.
MIL-STD
The "Identification Marking of U.S. Military Property" is used to give instructions on how items are marked and sold to Department of Defense. Rippedsheets.com offers a number of different materials that meet Mil-std requirements. Some of these materials include a waterproof latex, vinyl, and tear-resistant reemay.
FSC
FSC stands for Forest Stewardship Council, an organization that promotes the sustainability of forests around the world. FSC certified labels meet the requirements set by this organization. Rippedsheets.com was the first North American printing paper manufacturer to offer 100% recycled labels with FSC certifications. Offered are many different label and tag materials that meet this certification.
Whether it's a UL certified label need or an FSC certified label need, Rippedsheets.com offers a variety of different options and continues to add more. Visit the website or contact the customer service specialists for more information on certified labels.