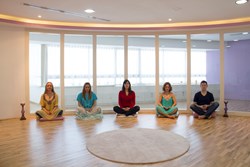 We hope that our clients lives will be changed, their world will have greater peace, health, spirituality, and a conscious life.
(PRWEB) July 19, 2013
Painful experiences leave many individuals feeling discouraged and depressed - whether it's a relationship conflict, health issue, or financial trouble. When this happens, people start questioning their lives and searching for answers, when they no longer feel in charge of their situation. Pain then becomes a vehicle, or catalyst towards personal growth.
When clients come into Dubai based well-being center Illuminations, they are often confused about what it is they are supposed to do. With so many different healing tools, therapies and workshops out there, it is difficult for an individual to understand where to start. Illuminations wants to help individuals with that journey.
Therefore in order to offer clear steps, Illuminations now aims to promote a starters kit which will appeal to everyone and provide a streamlined approach in order to iron out any confusion, and offer clarity in trying times.
The starter kit will include the following:

A free consultation explaining spiritual concepts based on metaphysics, science, philosophy and psychology
Information Videos, Books and a questionnaire to better understand their needs
Free entry into the beautiful mind workshop
Free Meditation Voucher
Introduction to Illuminations services and helping clients where to go next.
"We hope that by attending Illuminations, our clients lives will be changed, their soul re-inspired and they will reach beyond yourself and into the possibility of a greater world through peace, health, spirituality, and a conscious life," said Soniyaa Kiran Punjabi, founder of Illuminations.
Illuminations, offers services for individuals, corporate professionals and young adults to avail from daily meditations, self-empowerment workshops and seminars, holistic training programs, private consultations, and holistic products. Illuminations help inspire people to rise above their limitations in order to unlock their unlimited potential within.
To learn more about the programs and classes at Illuminations please send your full name, mobile and email ID to info(at)illuminationsworld(dot)com or call 04 448 7043.
Illuminations, is a Dubai-based holistic well-being center located in Jumeirah Lake Towers. The center was founded by Soniyaa Kiran Punjabi, with the intent of inspiring individuals towards a journey of self-discovery as a key to lasting happiness. The center offers a variety of services based on a holistic approach to self-development with the intention to provide a deeper insight into the mind-body-energy connection influencing the experience of life.