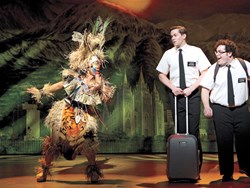 Denver, Colorado (PRWEB) July 19, 2013
Audiences and critics agree. This is one bawdy, naughty musical about religion. But wait, it's ultimately soulful and satisfying as well.
Maybe that is why so many of the faithful continue to flock to this scandalous, scurrilous – and yet ultimately sweet – production. The Book of Mormon opened on Broadway just over two years ago, and has been a huge success ever since. This, of course, has brought bliss at the box office too.
The nine-time Tony Award-winning musical now has four productions playing simultaneously: the original at the Eugene O'Neill Theatre in New York, and touring casts at the Bank of America Theatre in Chicago, the Prince of Wales Theatre in London and the Kennedy Center Opera House in Washington D.C.
The musical played to 102.6 percent capacity at the 1,066-seat Eugene O'Neill Theatre again last week, which was once again the highest percentage for the week on Broadway, per official box office data provided by entertainment-link.com.
The North American traveling productions, now in Chicago and Washington D.C., have already played to full houses in Minneapolis, St. Louis, Rochester, Detroit, Pittsburgh, and Boston. The London production is playing at the Prince of Wales Theatre in Greater London.
"The Book of Mormon is not appropriate for younger children, especially those in their pre-teens," said Felina Martinez at online ticket marketplace BuyAnySeat.com. "Adult audiences appear to appreciate the show's explicit and irreverent content, however. The Book of Mormon continues to stay at the top of our most popular tickets list."
"That's why we're proud to be able to offer theatre-goers a comprehensive and continuously updated selection of tickets of all available tickets, with a worry-free guarantee to protect their purchase," said Martinez.
"To access the listing of cheap Book of Mormon tickets we now have available, customers can go to BuyAnySeat.com and search for The Book of Mormon – then select their tickets," said Martinez.
From the creators of "South Park and "Avenue Q", Coloradoans Trey Parker and Matt Stone, the Book of Mormon continues to receive an almost perfect 4.9 rating from audiences on Broadway, while critics give it a 4.7 out of five stars. (Source: entertainment-link.com)
And, while the play is certainly controversial, many report finding it ultimately comforting. Perhaps that's why it continues to be so popular. The musical itself tells the tale of two mismatched missionaries sent to deepest, darkest Africa to spread the good word.
Those who have seen "South Park" probably won't need any warnings, but the producers have issued a parental advisory due to `explicit language'. What happens to these asymmetric missionaries in poor, hungry, AIDS-plagued Africa is... well, R-rated.
To some reviewers, the musical's content is both revolutionary and classic, hilarious and humane, funny and obscene. Other critics have called it blasphemous, scurrilous and more foul-mouthed than David Mamet on a blue streak – yet with a heart and soul as pure and pristine as a Rodgers and Hammerstein or Disney show.
Just how offensive is it? Despite its adult theme and coarse content, critics call it "surprisingly sweet", while Vogue magazine writes that the show "starts out as a potty-mouthed buddy comedy" before "winding up as a kind of parable," and concludes that the musical's "dirty little secret is its big heart."
To shop for cheap Book of Mormon tickets, visit BuyAnySeat.com.
About BuyAnySeat.com: An online ticket marketplace, BuyAnySeat.com connects sports, theater and other live entertainment fans to an extensive worldwide network of ticket sellers. The site's simplified listings and navigational tools enable fans to easily locate, compare and purchase inexpensive, discounted or lower-priced tickets to virtually all advertised sports and entertainment events around the globe.
The marketplace, which is PCI-compliant and Norton Secured, also provides customers with a complete Worry-Free Guarantee on all ticket purchases. Based in Denver, Colorado, BuyAnySeat.com is a subsidiary of Denver Media Holdings. For more information, please visit http://buyanyseat.com.