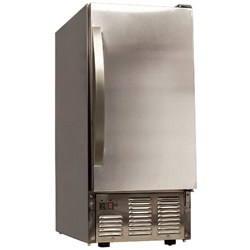 Austin, TX (PRWEB) July 24, 2013
The new EdgeStar Undercounter Clear Ice Maker is just one of several new products available at CompactAppliance.com. The new line of EdgeStar products are engineered to save space while providing maximum performance and durability in any area of your home – inside and out.
This particular ice maker can create up to 50 pounds of clear restaurant-quality ice every single day. Since it stands at a height of only 33.5 inches, this ice maker is uniquely designed to easily fit under most counters. Even with its small stature the EdgeStar Undercounter Clear Ice Maker can store up to 25 lbs. of ice in its removable ice bin.
The ice maker is crafted from stainless steel to give it a unique, attractive appearance. The stainless steel exterior also makes it incredibly easy to clean and ensures unparalleled durability. To add even more convenience, the ice maker also features a reversible door. This allows the door to swing open either to the left or right to ensure it is the perfect fit in any location.
It also includes four outdoor-approved casters, two of which can be locked when mobility is no longer needed. There are also adjustable legs so leveling the ice maker is never an issue. Additional accessories include a gravity drain, ice scoop, and removable ice bin.
Kari Hall stated, "We are always excited to add high-quality compact appliances to our lineup of available products at CompactAppliance.com. The new EdgeStar Outdoor Undercounter Clear Ice Maker embodies everything we look for when adding new product to our online store. It is durable, versatile, flexible, functional, and attractive."
Hall went on to note that, "We go through rigorous product testing to ensure our customers are always 100% satisfied with every purchase. This is one characteristic that has made the Living Direct network of websites a fan favorite since we opened our first online store in 1999. It is also an underlying value that led to our A+ BBB rating and recent 'Excellent' rating from STELLA Service for providing the highest level of customer service."
CompactAppliance.com is a website owned and managed by the Living Direct family. Visit the CompactAppliance.com website or their blog. You can also follow them on Facebook, Twitter, and YouTube to get exclusive access to product testing results, reviews, demonstrations, and instant notice about their latest deals.