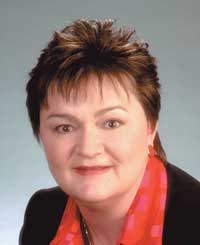 Sarah's "full-service" approach to insurance and financial services is an expression of the value system Agent Vicki Catsimpiris and her team of insurance professionals have brought to their agency
(PRWEB) July 18, 2013
Tallahassee insurance agent Vicki Catsimpiris and her team are celebrating the achievement of one of their own, Sarah Law, who recently received the top designations for the insurance and financial services industry. Already a Chartered Life Underwriter, or CLU, for a number of years, Sarah took it upon herself to round out her abilities as a financial advisor to her clients in the agency, by earning the coveted Chartered Financial Consultant, or ChFC, designation as well.
Mastering courses in insurance, income taxation, group benefits, and retirement, estate, and advanced financial planning over a period of several years, Sarah went all out to acquire a level of expertise that's incredibly rare among insurance professionals, the vast majority of whom have not put in the time and effort it takes to earn the ChFC designation. Contrary to the norm for her industry, Sarah worked hard to earn this accreditation because it allows her to truly serve all of her customers' insurance and financial services needs.
"The Charted Financial Consultant designation gives me full expertise on a wide variety of financial and insurance matters that can impact my clients' ability to achieve their dreams. While many life insurance professionals such as myself are satisfied to be able to offer just two or three products they know how to recommend, I know that no two clients are alike, and that what can positively or negatively impact their futures in this day and age isn't just a few standard products." Because of the increasing complexity of the financial services industry, Sarah told us she finds it critical for her to be able to "help my clients see the whole picture of their financial lives, and make a plan for the future that's easy and effective."
Sarah's "full-service" approach to insurance and financial services is an expression of the value system Agent Vicki Catsimpiris and her team of insurance professionals have brought to their agency. "It's not about applying a one-size-fits-all approach to insurance and financial services," Vicki told us. "Our passion is for responding to the real, changing, and unique needs of each individual client. Sarah Law's dedication to put herself in position to help our customers make the best possible decisions for themselves, their families, and their futures is a testament to our agency's approach to insurance, and we commend her for taking this important step forward both personally and professionally."
If you live or work in the Tallahassee area, call Vicki Catsimpiris' team at (850) 893-1952 or visit her website to get a quote and have your insurance and financial services needs handled by a team devoted to providing you with the finest insurance relationship and customer experience in the industry. You can also find their agency on Facebook at facebook.com/TallyCats.
Vicki Catsimpiris' Tallahassee insurance agency is located at:
1410 Market Street
C-4
Tallahassee, FL 32312