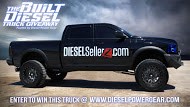 We take chances, love being involved in the cutting edge of technology, and push the limits of the possible.
Nationwide (PRWEB) July 23, 2013
When you think of outrageous marketing strategies, you need to look at Diesel Power Gear. Diesel Power Gear took a 2012 Dodge Ram 2500 Cummins diesel truck and started tricking it out for the Built Diesel Giveaway. Seeing their enormous marketing response, sponsors started calling and wanting in on the action.
The sponsors provided killer features including,but not limited to:

a six-inch lift,
Pro Comp with LRG wheels,
an ATS transmission,
a massive upgraded turbo and fuel system from Industrial Injection,
fully customized leather interior by Leatherseats,
a quality sound system by Frequency Mobile Innovations,
AMP electric side steps,
front and rear Fusion Bumpers,
super bright Rigid LED lights,
FASS fuel pump,
AMSOIL oils throughout the truck,
Diamond Eye Exhaust,
and more.
Specializing in diesel apparel, Diesel Power Gear provides you with one entry for every purchase you make of t-shirts, hats, tank tops, and even wrist bands, although no purchase is necessary to enter. For full contest rules, see the company website. Running since April 5, 2013, the promotion ends on August 14, 2013 and the winner notification takes place on August 15, 2013.
The winner will be flown to Salt Lake City, where the infamous Diesel Dave will pick them up in their new, fully built diesel truck.
Entrepreneurs Jared Sorensen and Dave Sparks love breaking traditional marketing rule and taking their ventures to the extreme. After all, that's how they live their lives. Both are into extreme sports, outrageous pranks, and going against the grain. See these zany characters who play as hard as they work on YouTube at TheRisebyTrial to see just what living on the edge is like.
You may think their approach is a little crazy but after seeing how well they follow through, you'll become a fan. These guys think so far out of the box that they are truly fascinating! "We absolutely love to put our heads together and think big," said Sorensen. "We take chances, love being involved in the cutting edge of technology, and push the limits of the possible."
"We are very fortunate to have had such huge success and are able to give away cool stuff," added Sparks. "So we came up with this Built Diesel Giveaway starting with a bone stock truck and adding a package of unmatched top-of-the-line features to make someone's dream come true."
Want another example of their keen marketing know-how and entrepreneurial success? Their main venture, Diesel Sellerz, is an online classified service specializing in domestically produced diesel pickup trucks.
With nearly a half million Facebook likes and growing in just eight months since their launch, they've grown into the largest specialty classified advertising site for diesel trucks in the world. Keep an eye out for Jared Sorensen and Dave Sparks. The world has just seen the beginning of this duo!