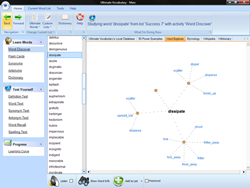 ...a rich vocabulary can improve literacy levels is that it helps a person more efficiently communicate at a personal and professional level.
New York City, NY (PRWEB) July 30, 2013
Building vocabulary is an important step in academic, personal, and professional success. With the 2013 release of Ultimate Vocabulary™ the noted e-learning company eReflect strives to help people to improve their literacy levels. As emphasized in the 2012/13 National Literacy Trust guide for primary schools in the UK, it's important to use "a balanced approach in which word recognition skills are matched by attention to comprehension," and that concept forms the basis of the exercises used in Ultimate Vocabulary™ 2013, says eReflect. In today's statement, eReflect explained that a rich, broad vocabulary has multiple benefits other than the immediate and obvious conversational skills it offers to the possessor. To help people understand the importance of vocabulary building, eReflect discussed three ways an extensive vocabulary improves literacy levels.
First, broadened vocabulary usage immediately means a better understanding of new ideas, especially technological terms. Technological innovations change daily life constantly and without a sound vocabulary, it's easy to get lost in the sheer amount of new tools and concepts technology and other related advancements bring. Technological literacy – although not the only important type of literacy – is crucial in keeping up with the rest of the world, eReflect pointed out.
The second way in which a rich vocabulary can improve literacy levels is that it helps a person more efficiently communicate at a personal and professional level. Consequently, people interact more competently; at the same time, this competence and confidence encourages literacy. A good vocabulary enables people to eloquently and accurately communicate their ideas and thoughts. This then makes it easier for them to interact with people who are more educated and experienced, and benefit from such fruitful interactions. As the National Literary Trust comments, there is a definite link between literacy and social mobility.
The third most important reason why a broadened vocabulary boosts literacy is that with an extensive vocabulary a person also increases their knowledge capacity. In other words, it allows the learner to more efficiently get their hands on new knowledge otherwise inaccessible due to a limiting vocabulary. An immediate consequence of a wide vocabulary, eReflect stressed, is that a person's career potential is enhanced since an extensive vocabulary functions as a vehicle for emphasizing all other important skills and qualities.
eReflect joins the National Literary Trust in their 2013 initiative by encouraging parents to show children the ways a rich vocabulary can promote literacy, and urges people of all ages to seek ways to broaden their vocabulary and start reaping the benefits this provides them.
For more information on how you can benefit from Ultimate Vocabulary, please visit its official website, http://www.ultimatevocabulary.com.
About Ultimate Vocabulary™
Ultimate Vocabulary provides a proven and powerful platform, built to improve anyone's vocabulary.
The interactive self-improvement system provides more learning tools than any other program on the market, as well as more information on words.
The Ultimate Vocabulary software provides each and every user with a personal computer tutor. Providing a step-by-step guide to learning a powerful vocabulary, Ultimate Vocabulary is the learning tool everyone can benefit from.
Of course, the software is also backed by eReflect's iron-clad money back guarantee.