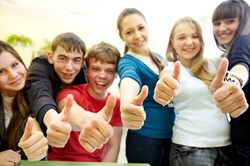 Hersey, MI (PRWEB) July 22, 2013
Eagle Village creates a safe, challenging atmosphere where youth participate in experiential activities that include a wide range of personal challenges. They confront past behaviors and with the support of Eagle Village staff, teenagers work to make changes in the way they approach their own lives, their families and their communities.
Youth Challenge Weekends help confront behavior patterns that create disturbances in the family or community. Teens attend with peers to discover a sense of purpose and self-esteem. They are empowered to take on new behaviors that are positive for self, family and community and learn to be accountable and responsible for their own actions.
Amanda Schafer, Executive Director of the Mt. Pleasant Area Community Foundation said, "The Mt. Pleasant Area Community Foundation is pleased to support the intervention services provided by Eagle Village. Their Youth Challenge Weekends encourage resiliency and develop within youth a stronger sense of personal value, building trust and respect for themselves and others, and learning healthy ways of communication. This grant will afford five Isabella County at-risk youth the opportunity to benefit from this preventative program, reaching them before they become part of the legal or social services system."
Eagle Village provides Intervention Services, Residential Treatment, Foster Care and Adoption services for all counties in Michigan. If you know of a family in crisis that may benefit from these programs contact Eagle Village at 231-832-2234.