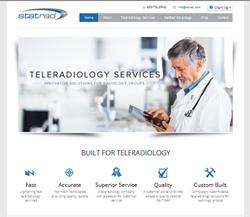 Our team is never complacent. From our teleradiology services to our technology platform to our website - we're always looking to improve. - Joe Moock, CEO, StatRad
Poway, CA (PRWEB) July 19, 2013
StatRad is pleased to announce the launch of a new corporate website. The redesigned site's clean, modern design is easier to navigate and is a better reflection of the company's teleradiology services.
"Our team is never complacent," said Joe Moock, CEO of StatRad. "From our teleradiology services to our technology platform to our website – we're always looking to improve."
The new site includes expanded information about all of the company's services and a blog. There will be additional upgrades in the future including video demos of the StatRad's teleradiology technology platform.
StatRad is also maintaining a presence on popular social media platforms Facebook, Twitter and Google+. Follow StatRad to stay up to date on the latest news and events.
About StatRad
StatRad is a private, radiologist-owned teleradiology services provider. The company's proprietary internally-developed technology system was specifically Built for Teleradiology and provides a customizable, user friendly interface that helps radiology groups streamline processes, increase efficiencies and deliver measurable results. StatRad received the Best in KLAS award for Teleradiology Services in the 2012 Best in KLAS Awards: Software & Services report.