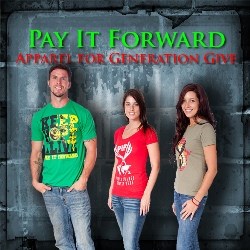 Our vision is that we are simply the first step to connecting sustainable donors to effective charities.
Los Angeles, CA (PRWEB) July 24, 2013
Children of the Night is being promoted by PIF Apparel, an online retailer that sells t-shirts to raise money for financially responsible charities. 25% of everything sold through the PIF Apparel website is donated to one of twelve different non-profit organizations. Each organization that PIF has partnered with represents a different cause, allowing customers the ability to choose one that best aligns with their passions.
"We partner with multiple organizations because we do not want to have to "sell" our customers the idea that one cause is more important than another. If people align with a cause that they already have a personal passion for they will be more likely to continue making a difference. Our vision is that we are simply the first step to connecting sustainable donors to effective charities," states PIF founder Matthew Moses.
PIF only partners with non-profit organizations that have an exceptional financial rating with Charity Navigator, the nation's largest non-profit evaluator. All of the charities featured through PIF apparel have been screened to make sure that the highest percentage of donations are being used to support the cause that is being promoted. Because of this, PIF customers can feel more comfortable knowing that their money is being put to good use for a cause, rather than a marketing campaign or expensive event.
Pay It Forward's shirts are printed in the U.S., and each design idea has been created by a member of the PIF team to help represent the company's philosophy of paying it forward, acts of kindness, and positivity. Slogans such as "Be The Change", "Keep Hope Alive", and "Small Steps, Big Difference" are printed on the shirts which cover an array of different colors, designs, and styles. Like many online retailers, PIF relies on its small community to spread the word about the brand which is still relatively small but has gotten exceptional reviews by existing customers, especially as it relates to comfort.
It is clear that owning a PIF product goes much deeper than the typical t-shirt purchase; customers are actually using their purchase to make a real difference. What makes this story even sweeter is the fact that you can purchase PIF shirts for the same price as most tees found at the mall. The quality is great, the designs are great, and the customers are making a difference.