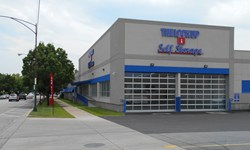 "The Lock Up strives to make each tenant's experience the best possible by going above and beyond when it comes to customer service."
Chicago, IL (PRWEB) July 20, 2013
The Lock Up Self Storage is excited to announce the most recent addition to their Chicago locations. The Chicago-Galewood Lock Up Self Storage is now open and can be found at 1900 N. Narragansett Avenue. Not only does this new facility have all of the amenities and services that are expected from The Lock Up, it is conveniently situated within the Galewood/Elmwood Park neighborhoods near the border of Chicago and Oak Park, making it easily accessible to residents and businesses on the west side of Chicago. Tenants are assured a top notch storage and service experience in this newly opened facility.
The Lock Up completed a total renovation of this location in order to launch their fifth location in the City of Chicago. The entire building was overhauled to fit The Lock Up's standards. Everything from the roof to the windows and interior of the building was rebuilt and over 700 storage units were created. From carpeted interior hallways and units, to climate controlled units, to an indoor loading bay and an enclosed drive-through tunnel that houses storage units going up to 500 square feet in size, we have anticipated every need of tenants in this facility.
With Chicago's weather having a tendency to be harsh and dramatic, The Lock Up made sure to create both interior and drive up storage units that are totally climate controlled. These climate controlled units ensure that all stored items are protected from extreme environmental conditions that could damage them. And, in order to protect tenants and their belongings during the loading and unloading process, this facility features an indoor loading bay. Tenants are able to drive moving trucks right into this bay and be protected from inclement weather while moving into a The Lock Up self storage unit. Similarly, tenants that opt to have a drive up storage unit are able to pull their moving trucks right into a drive-through tunnel that houses over twenty climate controlled units.
Security is always a top consideration for The Lock Up and the Chicago-Galewood facility is no exception. Electronic coded access ensures that only tenants have access to the property and storage units while a 24-hour security camera monitoring system keeps a watchful eye day and night.
The Lock Up strives to make each tenant's experience the best possible by going above and beyond when it comes to customer service. This includes offering a free move in truck with each new storage unit rental, removing one element of stress from the moving process. Additionally, free Wi-fi is available for all tenants. This is helpful for many situations, including when tenants need to be able to communicate with business associates while in their units. There is even motion sensitive lighting that not only removes the hassle of fumbling for a light switch in a unit, but also allows tenants to feel good about supporting a company that values energy conservation. And above all of the amenities available at this new facility are the knowledgeable managers and the staff of the Chicago-Galewood Lock Up Self Storage. When it comes to moving, packing and storage techniques, they are dedicated to helping customers have the best possible experience when storing their valuable items.
To celebrate the opening of the Chicago-Galewood Lock Up Self Storage, customers are being offered 20% off their rental fee when they book online.
Visit http://www.thelockup.com for more information and to secure a self storage unit.