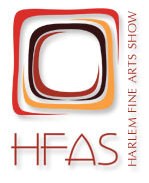 Harlem Fine Arts Show is more than fine arts; it is cultural nutrition and a great opportunity to view not only art, but to participate in a cultural experience.
Oak Bluffs, MA (PRWEB) July 22, 2013
The Harlem Fine Arts Show (@HFAS2013), a leading showcase for modern and contemporary African Diasporic art, returns to Martha's Vineyard for the second straight year August 5th through 11th. Having outgrown its previous location, the show will be held at Martha's Vineyard Regional High School located at 100 Vineyard Haven Road in Oak Bluffs, Mass. Famed artists, galleries and jewelers will participate in this seven-day festival. Special events include a breakfast event panel, golf tournament, music performances and free BBQ lunch.
The 'Start Your Day with Touré' chicken & waffles breakfast will be held on August 6th at Hooked Island Fish House in Oak Bluffs. Co-hosting the breakfast will be MSNBC's "The Cycle" co-host and author of What It Means to be Black Now, Touré, and life stylist, best-selling author and NBC's "Today Show" contributor, Harriette Cole. A panel discussion including local island artist Harry Seymour will follow the breakfast and cover topics of culture, news and art. The event begins at 9 a.m. and culminates with book signings of Touré's latest work, I Would Die 4 U: Why Prince Became an Icon, and Ms. Cole's latest work, 108 Stitches: Words We Live By.
The Harlem Fine Arts Show will continue its tradition of community outreach by partnering with local youth organization Young Brothers to Men. The group, led by Leo Frame, will benefit from proceeds of the 'Start Your Day with Touré' breakfast and will help host an opening day BBQ lunch on August 7th where the young men will serve a free lunch to the public and be on hand to raise awareness about their organization.
This being the second year the show has made its way to the island of Martha's Vineyard, Dion Clarke, Founder of the Harlem Fine Arts Show and President of JWD Enterprises, Inc., is looking forward to an even bigger return. "We are hoping to expand our scope this year and present an annual premier cultural event to the local and visiting community of Martha's Vineyard," said Clarke. "Harlem Fine Arts Show is more than fine arts; it is cultural nutrition and a great opportunity to view not only art, but to participate in a cultural experience."
For seven days, the Harlem Fine Arts Show will expand into a cultural experience featuring iconic artists, local and beyond, including Leroy Campbell, Robert Carter, Delano Brown, Bettie Eubanks, George Nock, Elizabeth Baez, Jeanne Staples and Corinthia Peoples. Also present will be Woodrow Nash Galleries and Martha's Vineyard's own Cousen Rose Gallery. The cultural experience will be expanded with a special performance by jazz band, Cliff Lee Plus Three.
The show also brings with it for the first time an Author's Pavilion with books provided by Edgartown Books. Joining Harriette Cole on August 7th are best-selling authors Toure, Sheila Bridges, SQuire Rushnell, Tom Dresser, Abigail McGrath and Dr. Roni DeLuz and James Hester.
The events in August also include a partnership with the African American Golfer's Digest Martha's Vineyard Golf Tournament to be held on August 5th. The Harlem Fine Arts Show is sponsored by BMW, Amtrak, Aetna and PepsiCo.
A full schedule of events is is available at http://www.hfas.org.
About the Harlem Fine Arts Show:
The 2014 Harlem Fine Arts Show line up is the premiere showcase for exhibiting modern and contemporary art that reflects the breadth of African Diasporic Art.
The 5th annual HFAS /New York show will be held in February 2014 at the Historic Riverside Church in Harlem. Originally founded in 2010, the Harlem Fine Arts show attracts over 10,000 visitors across a four day period from all over the United States and the world. The HFAS features over 80 important artists and galleries from around the world, and will host a major charity gala benefiting The Harlem School of the Arts as this year's Kick- Off Event with a Super-Bowl highlight.
The 2014 lineup includes our 5th annual Flagship Harlem Fine Arts Show in Harlem, the 3rd annual Martha's Vineyard Event in Oak Bluffs, MA and the premiere HFAS goes to Chicago in 2014.