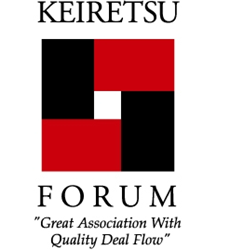 New York, NY (PRWEB) July 19, 2013
The Keiretsu Forum Mid-Atlantic Region (K4-MA) – with chapters in Philadelphia, DC, Pittsburgh, and New York – a part of the global Keiretsu Forum angel network, announced that it will present five early stage companies to investors at next week's monthly forum event. Three of the companies are life science companies. Attendance is by invitation only.
More than 100 accredited investors will see the same companies present their business investment opportunities Tuesday morning, July 23 in New York, Wednesday in Philadelphia, Thursday in Washington, DC, and Friday in Pittsburgh. The presenting companies will be:

Carmell Therapeutics develops biomaterials manufactured from blood plasma that are used in products that naturally promote and accelerate the healing of injuries to bone and soft tissues.
Codex Therapeutics develops a topical gel that is shown to substantially reverse chronic wound healing times for diabetic, pressure and venous.
Imagistix Inc. is a frequency and high resolution ultrasound imaging system poised to revolutionize the detection and treatment of prostate cancer in men.
Yorn® (Your Opinion Right Now) is an innovative real-time engagement platform with compelling evidence that it helps organizations understand and improve the customer/patient experience.
Guardian8 is a manufacturer of personal protection security devices that offer non-lethal solutions for layered defense and incident recording.
Two of the K4-MA cities are among the five top metropolitan regions for life sciences venture funding. According to recent data from PricewaterhouseCoopers LLP, venture capitalists invested $1.4 billion in 167 Life Sciences deals during the first quarter of 2013. New York was one of three of the five regions that saw double-digit increases in investing in Q1 2013, increasing 66 percent, while Washington Metro grew 53 percent. The top five metropolitan regions that received Life Sciences venture capital funding during Q1 2013 included San Francisco Bay at $427 million, Boston at $273 million, San Diego Metro at $122 million, the New York Metro at $106 million, and the Washington Metroplex at $100 million. These top five regions captured 74 percent of the dollars invested in Life Sciences companies in the first quarter of 2013. Biotechnology companies accounted for 68 percent of the dollars invested in Life Sciences deals in the top five metro regions. (PricewaterhouseCoopers LLP/National Venture Capital Association MoneyTree™ Report, based on data from Thomson Reuters.)
About Keiretsu Forum
Keiretsu Forum is a global angel investor network with more than 900 accredited investor members throughout 27 chapters on three continents. Keiretsu Forum Mid-Atlantic (http://www.KeiretsuForum-MidAtlantic.com) consists of four chapters that function as a single entity – Philadelphia, DC, Pittsburgh and New York. Keiretsu is a Japanese term for a group of organizations with interlocking business relationships, and Keiretsu Forum is a group of accredited investors with interlocking investment interests. Each chapter or region meets monthly to present rigorously screened candidates for investments. Keiretsu Forum's mission is "Great Association with Quality Deal Flow."
The Mid-Atlantic Region presents approximately five deals a month, 60 a year, to its members and accredited investor guests. Slightly more than 10 percent get funded, which is higher than the industry average. Approximately 36 funding applications are submitted each month to the K4-MA DealRoom website, http://www.K4-DealRoom.com and vetted by industry specialists. About 10 are then vetted by members at monthly screening meetings where they participate in a highly structured presentation-and-feedback-learning session. Four to five of the screened companies are then invited to present at subsequent monthly Forum meetings. Entrepreneurs invited to move forward to the Forum meetings must participate in mandatory professional coaching sessions to optimize the delivery of their presentations and also agree to participate in the road show to all four cities in the region, with exposure to approximately100 investors. Subsequently, information about their companies is posted on the organization's online global deal room for reference by all 900+ members. For global information visit: http://www.KeiretsuForum.com.
About Keiretsu Forum Mid-Atlantic July Forum Meeting Presenting Companies
Carmell Therapeutics, Pittsburgh, Pennsylvania – uses a concentration of the body's own regenerative factors to develop ready-to-use products that promote healing, reduce complications, and save healthcare costs. The first product is a bone putty to treat traumatic bone injuries, accelerating healing of not only the fracture site but also the surrounding soft tissues. Unlike competitive approaches, these products are safe, consistent and inexpensive – unique for the industry. Because the materials are manufactured at low temperatures, heat sensitive drugs such as antibiotics and analgesics can be added, resulting in a product that not only jump starts healing but also combats infections. Carmell is developing a complementary line of products to treat musculoskeletal injuries.
Codex Therapeutics, Parsippany, New Jersey – is currently focused on the preclinical development of its leading drug candidate CT-115, a topical gel which has shown potent efficacy in the FDA's assessment criteria of 100 percent wound healing incidence and near normal healing time in mice and pigs. Chronic wounds send greater than 10 million patients into long-term care in the USA each year costing more than $25 billion annually per the NIH. Codex's CT-115 is targeted to effectively intervene early, preventing these wounds from evolving into the chronic state.
Imagistix Inc., Ontario, Canada, – is a frequency and high resolution ultrasound imaging system that will revolutionize the detection and treatment of prostate cancer – the most common cancer in men. In a recent clinical study at John Hopkins, the number one hospital in urology, there was a 73 percent improvement in prostate cancer detection using the Imagistix system. Current low resolution imaging systems do not allow proper visualization of the prostate, resulting in two out of five men with prostate cancer being misdiagnosed (missed) on initial biopsy. The Imagistx high resolution system enables practitioners to visualize ducts and glands, locate cancerous regions, conduct targeted biopsies and monitor cancer evolution.
Yorn LLC, Philadelphia, Pennsylvania – is designed to enable patients, family members, and clinical staff to provide real-time feedback on any healthcare experience using any mobile device. Providers and payers can identify root causes of issues and make appropriate operational changes that improve patient experience and satisfaction. Yorn delivers clinical and economic benefits that can correlate to higher quality ratings on performance, isolate negative feedback from social media, enhance healthcare experiences and influence outcomes for all populations.
Guardian8, Scottsdale, Arizona - Guardian 8 produces enhanced non-lethal devices specifically designed to fit the needs of the security industry and the legal risks they often face. The company's first product, the G8 Pro V2 establishes overlapping protection zones with increasing levels of non-lethal response. Its thoughtful collection of proven technologies means guards now have a single solution for effectively defending against aggressive subjects from up to 50 feet away. The unit's layered defense paradigm grants guards a flexible buffer zone – giving them the opportunity to most reasonably respond to the situation at hand.