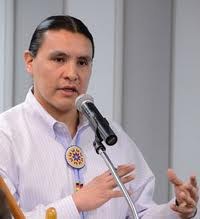 We hope South Dakota will endorse the appointment of a special master to review all current, non-ICWA-compliant placements of Native children.
(PRWEB) July 19, 2013
South Dakota Sioux tribal leaders and activists are extremely encouraged by a recent letter by SD Governor Dennis Daugaard to Health and Human Services Dept. Secretary Kathleen Sabelius. In the letter, the governor responds affirmatively to recent efforts by the tribes to begin the process of securing tens of millions of federal dollars to run their own child and family services programs. Currently, according to a report issued by South Dakota's ICWA directors earlier this year, South Dakota receives about $56 million annually from Washington D.C. (HHS) to provide foster care and adoption to Indian youth, who make up more than half of children in state custody despite constituting only 13% of the state child population.
In his letter to Secretary Sabelius, Governor Daugaard wrote, "Recently, several tribes have expressed interest in providing child welfare services, including foster care, to their members. They have indicated they may be contacting you to pursue this possibility. I want you to know that I am fully in support of these efforts, and I ask you to favorably consider the requests of any South Dakota tribe to directly administer child-welfare or foster-care services to their members."
Attorney Chase Iron Eyes of the Standing Rock Sioux Tribe says about Daugaard's letter, "It is a good first step, and we appreciate the governor's willingness to support our inherent right to sovereignty in the area of child and family services. However, the Department of Social Services remains in violation of federal ICWA law. Furthermore, there are thousands of our youth still caught up in the state system. In addition to supporting us, over time, in developing a direct funding relationship with the federal government, we hope South Dakota will endorse the appointment of an independent, special master to review all current, non-ICWA-compliant placements—in the interest of returning Lakota children to their extended families and tribes."
Mr. Iron Eyes emphasizes that the South Dakota tribes are standing together in seeking direct federal funding, a process which will take years. "We are working together as the Oceti Sakowin [Seven Council Fires] in developing capacity in the area of child and family services and in seeking a direct relationship with the federal government. This contravenes standard procedure imposed upon tribes by the Fostering Connections to Success & Increasing Adoptions Act of 2008. The law asks tribes to compete intensely for only five planning grants given out each year. This hyper-competitive process prevents qualified tribes from gaining access to technical assistance, while states like South Dakota do not have to compete for funding."
On October 25-27, 2011, National Public Radio exposed rampant violations of the Indian Child Welfare Act (ICWA) by South Dakota, and since that time the Sioux tribes and their NGO partners have organized fiercely to enforce ICWA in South Dakota. As part of this, all nine SD Sioux tribes participated in a BIA-sponsored Summit on Native foster care in Rapid City on May 15-17, 2013. The Summit was hosted by the Great Plains Tribal Chairmen's Association and attended by Kevin Washburn, Assistant Secretary for Indian Affairs for the Dept. of Interior. In another gathering of the tribes on July 8-10, leaders officially signified their intention to seek a direct funding relationship with the federal government. The tribes are preparing a letter to Kevin Washburn which asks him to make good on his pledge to support the tribes in their quest for direct federal funding.
Now on contract with the Standing Rock Sioux Tribe, the Lakota People's Law Project has been partnering with tribes and leaders in South Dakota since 2005 from its offices in Rapid City, SD and Santa Cruz, CA. The project combines public interest law, research, education, and organizing into a unique model for advocacy and social reform.
The Lakota People's Law Project is sponsored by the non-profit Romero Institute based in Santa Cruz, California. The Institute is named after slain human rights advocate Archbishop Oscar Romero of El Salvador. The Institute seeks to identify and dismantle structural sources of injustice and threats to the survival of our human family.