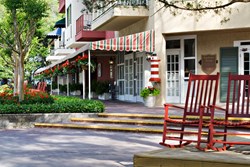 Best Places to Live in Coastal South Carolina
Hilton Head Island, SC (PRWEB) July 19, 2013
Coastal Carolina Hospital in Hardeeville is a fairly new addition to the coastal South Carolina community. This award winning hospital has been serving the Lowcountry for a little over five years and has already been noted for its high quality. Tenet Health awarded them with the Circle of Excellence Award in 2013 for the second straight year. They are accredited by the Joint Commission for their Primary Stroke Center and for their Advanced Rehabilitation for Chronic Obstructive Pulmonary Disease services. In addition, the American Heart Association has awarded them three times for their quality service treating stroke and cardio-pulmonary patients. With all of this, plus the hospital's commitment to providing kind, compassionate care, this is a great medical facility to have so close to the gated community of Hilton Head Lakes.
A Duke Medicine Affiliate, Beaufort Memorial Hospital, set on prime Lowcountry real estate along the Intracoastal Waterway, has recently opened its LifeFit Wellness Center. It has almost doubled in size from its former location and is ready to welcome everyone who wants to maximize their health whether they already have a health issue or simply wish to maintain optimal health and well-being. As a Duke Medicine Affiliate, Beaufort Memorial is part of a very select group of hospitals that benefit from Duke's guidance, advances, and research in the treatment of medical conditions. Beaufort Memorial Hospital is less than 10 minutes from the Happiest Community of the Year, Coosaw Point.
Also prestigious, St. Joseph's Candler Hospital is the first and only award winning Lowcountry hospital that is home to Cyberknife technology, known for its superior accuracy in the treatment of tumors and other conditions. Because of the incredible efforts St. Joseph's puts forth for the highly vulnerable members of your South Carolina community, it has been awarded with the Foster G. McGaw Prize for Excellence in Community Service which is one of the most highly respected service honors in healthcare. St. Joseph's Candler is also home to 5 Centers of Excellence: the Lewis Cancer and Research Pavilion, The Heart Hospital, the Mary Telfair Women's Hospital, the Institute for Advanced Bone & Joint Surgery, and the Institute for Neurosciences. Residents of Bluffton, Beaufort, and Savannah are very fortunate to live so close to this facility.
Recognized with a "Clinical Innovation Award" from the Tenet organization for its innovative clinical efforts that help to transform medical environments, Hilton Head Regional Hospital is another Lowcountry hospital that residents should take note of. In 2012, the American College of Radiology designated the hospital a Breast Cancer Center of Excellence for a variety of high quality breast related services. Since 2011, they have offered a mobile application created to cut down time waiting for emergency room services as well as a place to store valuable health information such as allergies, emergency contacts, and insurance information. This Lowcountry hospital has a full range of services and has been recognized for its superior care for stroke treatment.
For the courageous members and former members of the US military, Naval Hospital Beaufort is best known for its commitment to providing excellence in medical care for today's warriors and veterans as well. They are Joint Commission accredited for maintaining high standards nationally and internationally as well as being advocates for "those with operational injuries, seen and unseen." Veterans who have served in the military will appreciate this high quality healthcare facility.
Last is really the first. The Medical University of South Carolina (MUSC), according to U.S. News and World Report, is the #1 Best Hospital in South Carolina. It ranks nationally for Cardiology and Heart Surgery; Gastroenterology and GI Surgery; Ear, Nose, and Throat, and Nephrology. It was also ranked high performing in 9 other specialties. At least 27 outpatient services and 16 inpatient services are offered at MUSC both of which include pediatric cardiological services. The Medical University of South Carolina is located in Charleston, about 90 minutes away, but when the best is required, Charleston is just a hop skip and a jump to the north.
About Real Estate Scorecard
Real Estate Scorecard writes unbiased real estate reviews providing in-depth information about popular gated communities in Florida, Georgia, North Carolina, South Carolina and Tennessee, all in an effort to help people discover where to retire in the Southeast.
Website: http://realestatescorecard.com