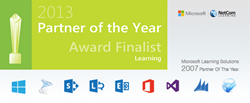 We are excited about offering our new boot camp experience in Las Vegas complete with classes in an optimum training environment and a hotel stay at a top rated Las Vegas hotel
New York, NY (PRWEB) July 22, 2013
NetCom Learning, 2013 Microsoft Learning Partner of the Year finalist, has moved its Las Vegas training location to a state of the art facility with custom built classrooms at 195 E. Reno Avenue Suite C conveniently located in the heart of Las Vegas, this facility provides a quiet location for hands on training and certification preparation. NetCom Learning's Las Vegas Boot Camps offer a comprehensive travel package with round trip airfare to Las Vegas and a stay at NetCom Learning's new travel partner, The Hampton Inn Tropicana. In Las Vegas, NetCom Learning students will be able to take highly demanded training including Microsoft, CompTIA, Cisco, Oracle, and other boot camps.
NetCom Learning's new Las Vegas location features a testing center and 5 classrooms with the ability to accommodate small and large group of students. All the classrooms include Quadcore intel/amd computers with up to 16GB RAM and 21" widescreen monitors. This facility boosts a high speed Internet connection with 100 Mbps, and LAN connection with 1,000MBps. Students enjoy complimentary meals during the training as part of NetCom Learning's Las Vegas boot camp. NetCom Learning's all inclusive boot camps offer a comfortable and convenient learning environment with top certified IT instructors.
"We are excited about offering our new boot camp experience in Las Vegas complete with classes in an optimum training environment and a hotel stay at a top rated Las Vegas hotel," said Russell Sarder, CEO of NetCom Learning.
Boot Camps work for employers
Employers that send their employees to boot camps benefit in several ways. They will be getting employees trained in areas critical to their company and helping employees earn their certifications which results in employee loyalty and increases the prestige of the company in the eyes of customers. Because the training takes less time than regular classes, there is less time away from work and companies also benefit from cost savings with consolidated classes. Employees come back from boot camps with new skills that can be put to use immediately, with more confidence and a shortened training time which translates to significant cost savings. Additionally, the certification testing center is right there at the training facility. This is of benefit to both attendees and any company or organization that sends their employees for training.
Importance of being certified
In a time of economic uncertainty, every edge that an individual can obtain in getting and keeping a well-paid job is important. Being certified in popular software products can be more than an edge, it could be the ticket to a new and better job. Research indicates that human resource departments and employers are looking for IT certifications when it comes to hiring a professional in information technology. They know when they hire an individual with a current IT certification they are getting someone who will be trained and ready to work in a busy information technology environment. Certifications validate that the individual has the required IT skills and that they have taken the time and money and energy to earn a certification.
Instructors
NetCom Learning instructors are approved and certified for teaching the boot camps and courses they teach. NetCom Learning instructors who routinely achieve high ratings from their students possess an average of 16 years of experience in their field of expertise and vendor approved coursework offering certification preparation for a variety of vendor certifications. NetCom Learning instructors routinely achieve high ratings from their students with an average instructor evaluation of 8.6 out of 9, one of the highest instructor evaluations in the industry. All NetCom Learning instructors have gone through a rigorous hiring process including a train the trainer course.
Why take your technical training with NetCom Learning?
NetCom Learning is the top US finalist for 2013 Microsoft Learning Partner of the Year, in 2007 the company was chosen as winner of Microsoft Learning Partner of the Year from a pool of 1,400 training companies. The leader in IT training provides the most innovative learning solutions including standard, boot camp, accelerated and customized training, and these offerings are available at NetCom Learning's three convenient locations, or anywhere in the world via Live Online or onsite training. The high quality of training has resulted in over 2,000 testimonials and a 96% customer satisfaction rate with those customers indicating they would recommend NetCom Learning to others. Recently NetCom Learning earned an NPS score of 70. NPS scores are used to gauge customer satisfaction and loyalty, a score of 50 is considered to be excellent.
Love of Learning Program
When signing up for a NetCom Learning course you are improving your marketability as an information technology professional and adding skills levels that will help you do your job. In addition, every paid registration is also helping out children around the world. Love of Learning is a partnership between NetCom Learning and BRAC USA, a nonprofit development organization to provide education for children in disadvantaged areas. For each registration, NetCom Leaning pays for an entire year of primary educational schooling for a child.
Upcoming Training in Las Vegas
July 29 - MCSA: SQL Server 2012 Boot Camp
August 5 – Oracle DBA Track (11g) - Boot Camp
August 19 - A+ and Network+ Certification - Boot Camp
September 9 - Programming in C# with Microsoft .NET Framework 4
September 16 - MCTS: .NET Framework 4, Data Access and Web Applications - Boot Camp
September 23 – MCSA: Windows 8 Boot Camp
November 4 - Security+ 2011 Certification Boot Camp
To learn more about upcoming NetCom Learning Boot Camps click here or contact us at info(at)netcomlearning(dot)com or 888-563-8266.
To learn more about NetCom Learning's boot camp experience in Las Vegas go to http://www.netcomlearning.com/aboutnetcom/vegas_bootcamp.phtml.
About NetCom Learning
NetCom Learning is an innovative leader in IT, business and executive training to companies, individuals, and government agencies. Since its inception in 1998, NetCom Learning has trained over 80 percent of the Fortune 100, serviced over 45,500 business customers, and advanced the skills of more than 71,000 professionals through hands-on, expert-led training, with the organization maintaining an average instructor evaluation score of 8.6 out of 9. NetCom Learning was recognized by Microsoft Corporation as its Worldwide Training Partner of the Year and named thrice to Inc. Magazine's list of fastest growing private companies in America. The organization was also recently named to the 2012 Top 20 IT Training Companies by TrainingIndustry.com and was named "Company of the Year" by the American Business Awards.
The purpose of NetCom Learning is to promote the values of lifelong learning.