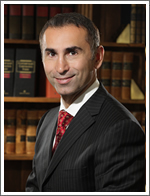 Rodney Mesriani, Esq. - Mesriani Law Group
Top Employment Labor Law Firm in California
Los Angeles, CA (PRWEB) July 23, 2013
Best Los Angeles employment and labor law attorney] Rodney Mesriani, Esq., highlights the recent ruling of the Supreme Court in the case of Vans v. Ball State University (U.S. 11-556, 6/24/13), where the Supreme Court clarified and made simple the determination of the issue of vicarious liability of employer for workplace harassment perpetrated by the victim's co-employee.
Top Los Angeles employment harassment lawyer, Rodney Mesriani, stated that under prior rulings of the Supreme Court, in determining the vicarious liability of the employer for workplace harassment, the employee victim of harassment should first establish if the perpetrator is a rank-and-file employee or a supervisor. If the perpetrator is a rank-and-file employee, the harassment victim needs to prove that employer was negligent in controlling working conditions. On the other hand, even if the perpetrator is a supervisor, the employee victim of workplace harassment needs to prove that the supervisor's harassment culminated in a tangible employment action (Burlington Industries, Inc. v. Ellerth, 524 U. S. 742, 761). Otherwise, the employer can still escape liability by establishing that, either: (1) the employer exercised reasonable care to prevent and correct any harassing behavior; or (2) that the plaintiff unreasonably failed to take advantage of the preventive or corrective opportunities that the employer provided (Faragher v. Boca Raton, 524 U. S. 775, 807; Ellerth, supra, at 765).
With this recent case, however, experienced Los Angeles employment lawyer Rodney Mesriani, Esq. opines that the latest interpretation of the concept of a "supervisor" adopted today is beneficial to all employee victims of workplace harassment, especially in cases of vicarious liabilities of employers for workplace harassment perpetrated by the co-workers against the workplace harassment or discrimination victim. "Prior to this recent ruling, EEOC's standards are seemingly vague as to what constitutes a "supervisor" in order to assign fault against the employer for hostile work environment or serious harassment caused by employees other than the employer himself/itself. Now, instead of first determining whether an employee is strictly a rank-and-file employee or a supervisory employee, the test is made easier for workplace harassment victims because the Supreme Court declares that the actual test is not the name of the position delegated by the employer but the actual powers granted to the employee. If the employee who perpetrated the harassment has the power to change the workplace harassment victim's employment status, such as hiring, firing, failing to promote, reassignment with significantly different responsibilities, or a decision causing a significant change in benefits, among others, then the employer is vicariously liable for the harassment, as espoused in the Ellerth case," adds Mr. Mesriani.
Mesriani Law Group's best employment harassment claims attorneys in Los Angeles are well known for their swift resolution of every employment harassment case in Los Angeles and throughout California, to include: sexual harassment, racial harassment, sexual orientation harassment, disability harassment, national origin harassment and religious harassment. The highly competent employment harassment claims attorneys of the Mesriani Law Group have years of experience not only in litigating harassment cases but also in representing client victims of harassment in negotiations, mediations, arbitrations and any other alternative venues for dispute resolutions.
About Mesriani Law Group, P.C.
Mesriani Law Group is a Los Angeles, California based employment and labor law firm founded by Rodney Mesriani, Esq., with decades of experience in helping wrongful termination and employment discrimination and harassment victims, as well as victims of labor law violations obtain the highest compensation they deserve. The law firm's best Los Angeles employment and labor law lawyers, based in 5723 Melrose Ave., Suite 250, Los Angeles, CA 90038, specialize in handling all types of wrongful termination cases; violation of retaliation laws; violation of whistle blowing laws; and employment discrimination or harassment, to include age discrimination, racial discrimination, gender discrimination, disability discrimination, religious discrimination, pregnancy discrimination, national origin discrimination and workers compensation discrimination, as well as labor law violations to include: violations of the minimum wage, overtime, meal and rest break laws and other labor law violations. To learn more about the firm, call (866) 998-2545 for a free case evaluation or email them at rodney(at)mesriani(dot)com or take advantage of their free on-line case submission.