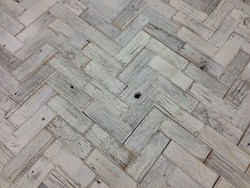 The easy plank format makes it possible to install reclaimed wood on walls without the hassles.
Nashville, Tenn (PRWEB) July 25, 2013
Mission Stone & Tile, a retailer/distributor of tile and natural stone collections with an online store and two showroom locations in Tennessee, has introduced the Reclaimed Barnwood Series, a line that incorporates harvested wood to create wood tile planks for use on walls and backsplashes.
"We're thrilled to offer this amazing, unique new line," states Mary Elizabeth Oropeza, President of Mission Stone & Tile. "The Reclaimed Barnwood Series brings a whole new category to our offerings. It's real wood in planks that install similarly to tile."
The wood used in the products is reclaimed either from old barns and other structures or is taken from extracted flooring and then reworked into easy-to-install planks suited for wall installations. The products are "the epitome of upcycling," offering a vast range of styles and looks. When installed, the wood planks give depth, dimension and timeless appeal to overall design.
"These wood planks can complement contemporary designs, as well as classic or quaint interiors… It looks great in homes or workplaces," Oropeza explains. "And the easy plank format finally makes it possible to install reclaimed wood on walls without hassles."
For more information, visit our Reclaimed-Barnwood-Tiles website section.
About Mission Stone Tile
Mission Stone & Tile is a premiere importer and distributor of natural stone, ceramic, and porcelain tile collections, founded by tile industry veteran and interior designer Mary Elizabeth (Hulsey) Oropeza. Mission Stone & Tile is the culmination of 20 years expertise in stone and tile, grounded in a commitment to meet the needs of designer, architectural, builder and contractor clients.
Mission Stone & Tile showrooms are true design resource centers - light, open spaces filled with samples to inspire custom designs.
Locations are open weekdays between 8:30 and 4:30. Mission Stone & Tile's online store is accessible anytime at store.missionstonetile.com.
Mission Stone Tile- Headquarters
2930 Sidco Drive
Nashville, TN 37204
T: [615] 244-6448
F: [615] 244-6508
E: info(at)missionstonetile(dot)com
Mission Stone Tile- A Tile Showroom in Chattanooga, TN
55 East Main Street Ste 102
Chattanooga, TN 37408
T: 1-877-529-8453
E: chatt(at)missionstonetile(dot)com