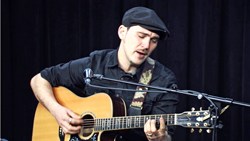 New York, NY (PRWEB) July 22, 2013
Save the Putnam Trail, the grassroots group dedicated to preserving the converted railroad bed that runs through New York City's Van Cortlandt Park, is pleased to announce that in addition to performing from his regular repertoire, Patryk Larney will talk about the Putnam Trail campaign and sing the anthem live at the iconic nightclub.
"The Putnam Trail is sacred ground for anyone wanting to get away from the asphalt Jungle. From an earlier video to be re-released using Patryk's music, we see streams of cyclists, couples, joggers, walkers, children, oldsters, fishermen and even dogs enjoying the Trail. It shows that the community is solidly in favor keeping their forty-year old nature Trail as natural as possible," declares spokesperson Suzanne Corber.
Patryk Larney, a folk singer and guitarist who lives in Brooklyn, wrote and recorded the song, which features rhythmic acoustic chords and the lyrics: "Hail, Hail The Putnam Trail!/ Don't cover up what's left of the old railroad / Let her people carry through / Save the pavement for Madison Avenue." An early video of Larney's recording can be seen on http://youtu.be/sk9yXbBxne4. Tuesday's event is Larney's farewell show as he will be moving to Nashville, Tennessee to deepen his musical roots.
"We are honored that Patryk Larney has contributed to our mission to save vital green spaces in the city," said Corber. "He's a wonderful talent in the folk pop genre, and the song he has written is both expressive and humorous—we love it."
Larney is originally from New Jersey. Described as soul-infused rock, Larney's music is widely appreciated for melodies and storytelling that follow the tradition of such artists as James Taylor, Paul Simon and Tom Petty. Larney released his latest album, "Circus of Idols," last year.
###
For more information or to schedule an interview, please use contact information or visit savetheputnamtrail.com.