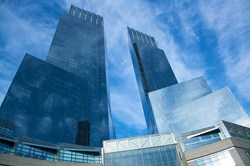 Scottsdale, AZ (PRWEB) July 19, 2013
According to Gartner, the Software-as-a-Service (SaaS) market will reach sales of $22.1 billion in 2015.
This number reflects the growing adoption of cloud-computing applications in business operations. It also illustrates the expansion of SaaS providers into the market.
Not all SaaS providers are created equal. That's why it's important that large companies conduct due diligence when selecting one for their operational needs.
"Depending on the role they will play within your enterprise, a SaaS application could be a critical component in your business processes," said Stephen Booze, CIO of Appointment-Plus enterprise appointment scheduling software. "Selecting an inadequate service could have dire circumstances, internally and externally, as well as financially.
"It's imperative for enterprises to research SaaS providers before making their selection."
Here are four things to look for when choosing an enterprise SaaS provider:
1. Functionality and Services.
System features are a top consideration. Make certain the selected SaaS system provides all of the necessary functionality your enterprise requires. Be sure to analyze both current and future needs.
Considerations should include:

Web services
API
High scalability
24/7 live customer support
Mobile apps
Integration with Google and Outlook calendars, QuickBooks and other popular programs
Real-time analytics
Additionally, inquire on the company's development process for new functionality. Reputable SaaS companies continually develop and release fresh innovations beneficial to their clients.
2. Stability.
Like small businesses in general, the majority of SaaS companies fail within the first few years of launching. Inquire on how long the SaaS provider has been operating. Long-established companies generally have good track records of service and system development.
For example, Appointment-Plus has serviced large companies since 2001. This experience helps it create the perfect enterprise solution for automating any scheduling need.
3. Security.
As cloud-based programs, most SaaS applications are hosted on off-site servers. This means company and customer information could be vulnerable to hacking. The latest security practices are a must when selecting a SaaS provider. Ask the provider what standard precautions are in place to ensure the safety of client data.
These can include:

Server database, data storage and back-up procedures
System firewalls
Procedures related to failover and federal regulations, if applicable
4. References.
Peace of mind is important when selecting a SaaS provider. Determine if the application is the right fit by speaking with current users within your industry. Reputable SaaS companies should provide these to prospective clients when asked.
Inquire on client cases studies and articles written on real-life user experiences, such as this one on how Crescent Crown Distributing utilizes Appointment-Plus.
Learn how the Appointment-Plus enterprise scheduler can benefit your company. Call 888-772-6746. Visit http://www.appointment-plus.com/scheduling_software/enterprise_online_appointment_scheduling_software.php.
About Appointment-Plus: Appointment-Plus is the number-one scheduling solution for large companies worldwide. Its enterprise package provides high scalability, system integration and API Web services. Clients receive 24-hour live support and dedicated contacts.
For media and bloggers: If you're interested in interviewing an executive to learn more about Appointment-Plus, please e-mail us at erichard at appointment-plus dot com. If you're a blogger interested in sharing stories and guest articles, please contact us at the above e-mail.