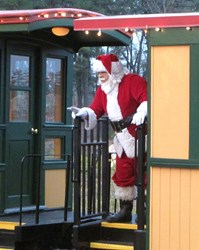 "We wanted to recreate the magic of the story as much as possible. The extended track and new North Pole location will achieve that."
Carver, MA (PRWEB) July 23, 2013
It's only a couple of miles of track, but that's all the rail needed to create the illusion of a far-off North Pole. To achieve that particular effect for the 2013 Polar Express, Edaville has begun the daunting task of restoring part of the original railway laid in 1947. It will debut for service on November 22, the first of 19 Polar Express dates during Edaville's holiday season this year.
"We wanted to recreate the magic of the story as much as possible – and a big part of that is being whisked off by train through the unknown to arrive at The North Pole," explained owner Jon Delli Priscoli. "There's no chance these kids will know the route they're on and they won't be able to see the North Pole until they get there, adding mystery to the ride until finally their anticipated destination appears out of the darkness like a dream."
Those in the Edaville know will remember that the original railway was shortened in 2005, changing the trip length from forty minutes to twenty to accommodate families with small children. Since then, nature has quickly been reclaiming much of the railway which winds through forest and along a beautiful and remote rural reservoir.
The Polar Express will leave the Edaville depot, switch tracks at the Atwood whistle stop and continue on to the North Pole. There the train will stop and Santa will climb on board, greet the children and give each a golden bell, the first gift of Christmas. Costumed staff will serve hot chocolate and cookies while pajama-clad guests enjoy a live reading and carols – all on an authentic steam train, just like in the story.
The Polar Express at Edaville will run three trains each night on November 22-24 and 27 and December 1, 5-6, 8, 12-13, 15, 18-20, 22-24, and 26-28. Train times are 4:30, 5:30 and 6:30 pm on weekends and 5:30, 6:30 and 7:30 pm on weekdays. The cost is $34 for all ages 2 and up and includes the Polar Express experience as well as all rides and attractions at Edaville's Christmas Festival of Lights.
Inspired by Chris Van Allsburg's classic children's story, The Polar Express is set to the sounds of the soundtrack from the Warner Bros. movie starring Tom Hanks. Details and tickets for The Polar Express and all Edaville events can be found at http://www.edaville.com, or by calling 508-866-8190.
About Edaville USA
Edaville USA is a train-themed family amusement park located in the heart of cranberry country. This New England tradition features an authentic narrow gauge railway winding through picturesque cranberry bogs, as well as unlimited use of 12 vintage carnival rides and beautifully decorated indoor and outdoor play spaces. Edaville hosts many special events in the fall and winter, including Day Out With Thomas, National Cranberry Festival, The Polar Express and fabled Christmas Festival of Lights. Edaville is conveniently located less than an hour from Boston and Providence. For more information, visit http://www.edaville.com or follow Edaville on Facebook at http://www.facebook.com/EdavilleUSA .
# # #