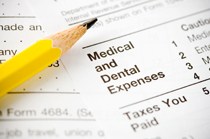 The Internal Revenue Service (IRS) states that "you can include in medical expenses amounts you pay to lose weight if it is a treatment for a specific disease diagnosed by a physician (such as obesity, hypertension, or heart disease)."
Canoga Park, CA (PRWEB) July 23, 2013
It's often been said that good health is priceless. However true that is, weight loss comes at a cost. Luckily, medical weight loss programs might actually cost less than you think. Lots of people don't know about the deductions and cost savings they may be able to get from their medical weight loss plan. 101 Medical Weight Loss offers advice for savings on the following three structures: HSAs / MSAs, FSAs, and the itemized medical expense deduction.
HSAs / MSAs:
A Health Savings Account (HSA) or Medical Savings Account (MSA) is a tax-exempt account established exclusively for the purpose of paying for "qualified medical expenses" of the account owner. So, an HSA or MSA allows individuals to save for such qualified medical expenses with pre-tax money. Your medical weight-loss program may qualify.
According to the Internal Revenue Service (IRS), "You can include in medical expenses amounts you pay to lose weight if it is a treatment for a specific disease diagnosed by a physician (such as obesity, hypertension, or heart disease)." If this sounds like your situation, then you should contact your tax advisor and physician to see whether a HSA or MSA might help pay for your medical weight loss program costs.
Of course, your tax advisor and/or employer can also explain some of the differences between HSAs and MSAs, so you should consult their expertise to determine the option(s) that might apply to you.
FSAs:
A Flexible Spending Account, or FSA, is another pre-tax program designed to provide some of the benefits of HSAs and MSAs. These pre-date the HSAs/MSAs by several years, and also have a use-it-or-lose-it provision: FSA funds not spent the year they are set aside or during a grace period, if any, are forfeited. Unlike FSAs, HSA and MSA funds roll over from year to year and build. However, the tax relief is similar.
Do you have an HSA, MSA, or FSA?
HSAs, MSAs, and FSAs are usually provided as a benefit by your employer. Check with your human resources department to see if your company offers one and how you can enroll.
Itemized Medical Expense Deduction:
If you don't have an HSA, MSA, or FSA, and you're a taxpayer who itemizes your deductions, you can potentially add your medical weight loss program costs to the costs of your other medical and dental expenses. However, within this category, you can only deduct medical and dental expenses that exceed 7.5% of your adjusted gross income and that are not reimbursed.
Deductible Medical Expenses: What's Not Covered
Weight-loss related medical expenses that are not considered deductible include but may not be limited to:

Weight loss program costs, where the purpose of the weight loss is not for the treatment of a specific disease diagnosed by a physician (such as obesity, hypertension, or heart disease).
Expenses for gym, health club, or spa memberships.
The cost of diet food or beverages (such food and beverages are considered a substitute for what is normally consumed to satisfy nutritional needs), with some exceptions.
To find out how to lose extra weight the healthy ways please visit http://www.101medicalweightloss.com.
About 101 Medical Weight Loss:
For more than a decade, The Center for Medical Weight Loss has been helping people to shed unwanted pounds through physician-guided programs. The company is known throughout the San Fernando Valley area for uniquely meeting the needs of patients through personalized plans. 101 Medical Weight Loss operates on the belief that safe weight loss results from healthy food and lifestyle choices, but provides the option of a safe appetite suppressant prescription when necessary. To discover what The Center for Medical Weight Loss can do for you, visit 101MedicalWeightLoss.com