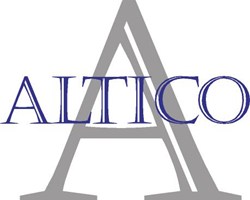 As a dedicated leader in East Region, and winner of the East Region 2013 Volume Partner of the Year award, Altico Advisors is incredibly deserving of this award.
Marlborough, MA (PRWEB) July 23, 2013
Altico Advisors, http://www.AlticoAdvisors.com, was the proud recipient of two accolades at the Microsoft Worldwide Partner Conference in Houston, TX – membership in the Microsoft Dynamics 2013 President's Club and the East Region 2013 Dynamics Volume Partner of the Year award.
The President's Club for Microsoft Dynamics recognizes high-performing Microsoft Dynamics partners that drive leading Microsoft Dynamics business results. This award is an acknowledgement for driving exceptional levels of growth in all areas of their Dynamics business. These partners have also demonstrated key investments and commitment towards customer satisfaction and an active competency in the Microsoft Partner Network. Altico Advisors holds Gold Enterprise Resource Planning (ERP) and a Silver Customer Relationship Management (CRM) competencies.
"We're incredibly proud of the entire Altico team and their achievements this year," says Mike Kean, Altico President. "President's Club is an elite group and the East Region Volume Partner of the Year award is held by only one partner per region. To have won that award for the East Region is truly a testament to the dedication, expertise and cooperative efforts of our team."
The Dynamics East Region Volume Partner of the Year award recognizes a 'stand out' area partner who has exhibited outstanding accomplishments during the fiscal year. Altico Advisors' nomination elaborated on numerous categories that have contributed to the company's growth since its inception and especially in the Microsoft's 2013 fiscal year which ended on June 30th. There areas included: Marketing Innovation; Verticalization; Increased Head Count, Revenue and Customer Adds; Microsoft Program Participation; and Improved Key Metrics Analysis.
"The 2013 East Region Partner Award Winners represent some of the best and brightest our ecosystem has to offer," said Jack Braman, Vice President, East Region Small and Midmarket Solutions and Partners (SMS&P), Microsoft Corporation. "We applaud our winning partners for their incredible focus, passion and dedication to solving the most pressing technology challenges facing our mutual customers today."
"As a dedicated leader in East Region, and winner of the East Region 2013 Volume Partner of the Year award, Altico Advisors is incredibly deserving of this award," said Jack Braman. "Altico Advisors has a proven track record of consistent excellence in its service to commercial customers throughout the East Region."
According to Jamie Tozzi, General Manager, Dynamics East Region at Microsoft, "It has been my pleasure to work with Altico Advisors and witness their growth and success. Altico's business ethics, values and commitment to clients are key elements that have contributed to their outstanding performance. The Microsoft team was proud to induct the Altico team into the Dynamics 2013 President's Club and to present them with the East Region 2013 Dynamics Volume Partner of the Year award."
About Altico Advisors
Headquartered in Massachusetts, Altico Advisors implements and supports business, financial, and customer management software solutions for mid-market enterprises, primarily throughout New England. Altico is a Microsoft Gold Partner specializing in Microsoft Dynamics GP (Great Plains), Microsoft Dynamics CRM, integration services, and Business Intelligence (BI) systems for manufacturing, distribution, software development and service companies. In addition, Altico provides a wide variety of consulting and advisory services, such as outsourced financial services, business and IT strategy alignment, software selection, and business analytics. http://www.AlticoAdvisors.com