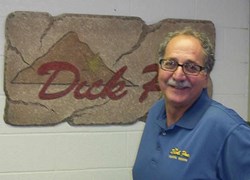 El Paso, TX (PRWEB) July 19, 2013
Dick Poe Toyota-Scion of El Paso, Texas is excited to welcome John Attel to the position of General Manager. John is not new to Dick Poe Toyota-Scion as he was previously Dick Poe Toyota-Scion's Service Director. To his new position as General Manager, John brings over 20 years of automotive experience in a variety of dealership functions. The management and staff of Dick Poe Toyota-Scion look forward to having John leading the way.
John Attel is a native of El Paso and graduated from Jesuit High School. He attended college locally as well at the University of Texas at El Paso. When John is not serving the needs of customers at Dick Poe Toyota-Scion, he enjoys time at home with his wife Kathy and his three children – Nina, Maisy and Oliver. John also enjoys swimming and classic cars. Prior to joining the Dick Poe Toyota-Scion team, John worked for El Paso Natural Gas and General Motors. John welcomes everyone in the El Paso area to stop in and see all the new things going on at Dick Poe Toyota-Scion.
Dick Poe Toyota-Scion has been serving the people of El Paso, Texas from Montana Avenue for over 30 years and at their current location at 6330 Montana Avenue for the past 10 years. Dick Poe Toyota-Scion is currently undergoing renovations and as part of the expansion, the current building is being changed into a quick maintenance center for oil changes and other services. The expansion is designed to help serve Dick Poe Toyota customers more efficiently and attract new customers with a larger and more modern facility. The tentative completion date for the expansion is August of 2014. Dick Poe Toyota-Scion is a full-service Toyota dealer located in El Paso, Texas and has been serving El Paso and its surrounding communities as well as Las Cruces and Albuquerque, NM for over 85 years. For more information about Dick Poe Toyota-Scion, please visit their website at DickPoeToyota.com.