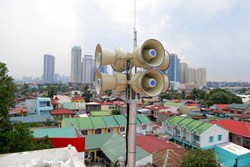 Boston, MA (PRWEB) July 22, 2013
ATI Systems (Acoustic Technology, Inc.), USA, and Triton Communications Corporation, Philippines, have jointly designed and installed a new Dual-Purpose Outdoor Emergency Warning System for Pasig City, a first of its kind in the Philippines for Disaster Risk Reduction Program of the City under the administration of Mayor Robert C. Eusebio. This system was custom designed for Pasig City because local officials required flood zone alerting for a smaller area in addition to wider area alerting for other emergencies. It has two pre-programmed volume levels—a lower volume to alert just the flood zone and full volume for wider-ranging emergencies, such as a typhoon or tsunami, which could affect the entire area.
The warning system includes three 3200 Watt High-Powered Speaker Stations (HPSS32s) that provide voice and tone alerting to the people in Pasig City. Alerts programmed into the system include typhoon, flood, and general emergency, as well all clear and test signals. Each alert has a distinct tone signal followed by a pre-recorded message directing citizens to safety. The sirens are controlled and monitored by a Control Station outfitted with a custom version of ATI's MassAlert® Software. The various components of the warning system communicate wirelessly using radios.
ATI Systems is a leading manufacturer of outdoor warning equipment headquartered in Boston, Massachusetts, USA. Triton Communications Corporation is a premier radio systems dealer and service center headquartered in Pasig City, Philippines. The two firms both added engineering expertise and collaborated on the warning system design. Triton Communications Corporation installed the system, and ATI Systems conducted the final inspection, system startup, and user training.
About ATI Systems
Founded in 1981, ATI Systems designs, manufactures, and installs dependable emergency warning and notification systems. ATI's advanced technology is currently protecting military bases, industrial facilities, campuses, and communities worldwide, with innovative and flexible wireless systems that reliably provide audible and visual warning messages. The systems utilize a compact hardware design, user-friendly software, and the latest advances in communication methods, including radio frequency, IP Ethernet, and satellite technology. Through product design enhanced by years of experience in acoustic modeling, ATI Systems' products provide exceptional sound coverage and voice intelligibility in both outdoor and indoor settings. The company's systems can be found throughout North America, Europe, the Middle East, and Asia. To learn more about ATI Systems, visit http://atisystem.com.