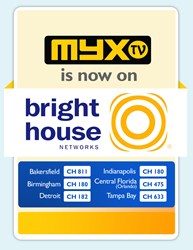 We continue to see the demand for Myx TV rise all across the United States.
Los Angeles, CA (PRWEB) July 19, 2013
Asian American network Myx TV proudly announces its launch on Bright House Networks' Digital Basic Tier. The award-winning cable network is now available on channel 811 in Bakersfield, 180 in Birmingham, 182 in Detroit, 180 in Indianapolis, 475 in Central Florida (Orlando), and 633 in Tampa Bay. With the access of Myx TV via Bright House Networks, the channel's viewership now bumps up to 12 million households around the United States.
Lauded with recognition by the prestigious CableFAXIES Awards, Myx TV has brought programs to Asian American audiences since 2007. Through the years, it has established itself as a leader in entertainment and cutting-edge technology through programs like MashBox, The Kitchen Musical, Press Play, Music Bank, and more. An industry advocate for Asian American talent, its early support of artists like Jessica Sanchez, Far East Movement, and Bruno Mars, as well as many celebrities whose careers started on YouTube has gained it a reputation as a barrier-breaker and trendsetter. In May of this year, the City and County of San Francisco gave a special recognition to Myx TV for the company's vision and success in promoting appreciation of culturally diverse music and entertainment and giving a voice to Asian Pacific American artists and performers. This year, the channel also celebrated multiple nominations at the 2013 NAMIC Vision Awards. With the addition of more unique programming to its line-up, which includes internationally celebrated titles and productions, Myx TV brings top rated content to its fast-growing audience.
"We continue to see the demand for Myx TV rise all across the United States," said Miguel Santos, General Manager for Myx TV. "We are excited to bring our content to more viewers through our partnership with Bright House Networks."
Myx TV is now available on Bright House Networks systems at no additional charge to its Digital Basic Tier subscribers.
##
ABOUT Myx TV®:
Myx TV is the fastest growing Asian American entertainment network in the United States. Broadcast in 12 million households, with millions more viewing its programs online, Myx TV is one of the few entertainment brands targeting the broader pan-Asian-American community. The network's award winning programming is a unique combination of original and syndicated shows, including reality, live music performances, animation, and independent film and Asian cinema airing 24/7 in English. To find out more information on Myx TV, visit http://www.myx.tv, http://www.facebook.com/myxtv, http://www.twitter.com/myxtv, http://www.instagram.com/myxtv, and http://www.youtube.com/myxtv.
ABOUT BRIGHT HOUSE NETWORKS:
Bright House Networks is the sixth largest owner and operator of cable systems in the U.S. and the second largest in Florida, with technologically advanced systems located in five states including Florida, Alabama, Indiana, Michigan and California.
Bright House Networks serves approximately 2.5 million customers who subscribe to one or more of its video, high-speed data, home security and automation and voice services. The company also offers a portfolio of customizable, cutting-edge business solutions spanning Internet, MEF-certified Metro Ethernet, WiFi, security, telephony, and video. Bright House Media Strategies, the advertising arm of Bright House Networks, offers businesses advanced targeted advertising solutions.
Bright House Networks also owns and operates exclusive local news and sports channels in its Florida markets.
For more information about Bright House Networks or our products and services, visit brighthouse.com.
Myx TV CONTACT:
Tiffany Phung
Marketing Manager
Tiffany.Phung(at)myx(dot)tv