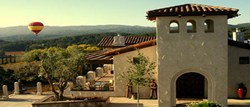 Paso Robles, CA (PRWEB) July 20, 2013
The Foodie Wine Tour features the culinary skills of Thomas Hill Organics' Chef Julie Simon as she creates three unique plates to pair with three Denner Vineyards wines. Also presenting wine flights will be Croad Vineyards, Opolo Winery, and Jada Winery, which will serve its wines paired with Vivant Fine Cheeses.
Thomas Hill Organics is a wine bar and market-bistro that features local organic produce grown on the family farm in the East hills of Paso Robles. Owner Debbie Thomas states, "Pairing our uniquely crafted dishes with local wines not only compliments the food and the wine, but reveals nuances of other flavors from each other without overpowering either one." Thomas Hill Organics' farm grows heirloom fruit, vegetables, and nut varieties along with lettuce, garlic, tomatoes and various seasonal vegetables and herbs. The restaurant supports organic cattle ranches, poultry farms, and local fisheries.
Chef Simon chose for the pairing Denner Vineyard's 2012 Theresa, 2012 Viognier, and 2010 Mother of Exiles. Denner is an exclusive winery boasting one of the only gravity-flow systems in California. Eighteen Denner wines have received 90+ points from Wine Spectator, and their 2008 The Dirt Worshipper ranked #11 in Spectator's coveted Top 100 List for 2011.
Croad Vineyards' owner and winemaker Martin Croad will personally host a behind-the-scenes tour of the winery after guiding guests through a flight of 13 wines featuring mostly Estate Zinfandels and Rhone blends in his California Mission-style tasting room. Croad often honors his New Zealand heritage when naming his wines. Aroha, a Cabernet Sauvignon and Syrah blend, means "love" in the Maori language, and the word for "warrior" gives the bold Rhone blend Toa its name.
Opolo Winery owners Rick Quinn and Dave Nichols had no intention of making wines when they bought land in the hills to the west of Paso Robles and planted vineyards in 1997. Instead, they intended to sell wine grapes to other vintners, and the project became a "hobby that got out of control," according to Quinn. Now, Opolo produces 30 different wines from 17 different varietals, including the celebrated Mountain Zinfandel.
The Foodie Wine Tour concludes on the scenic patio of Jada Winery with a pairing of Vivant Fine Cheeses and wines from Jada's Reserve selection. Jada Vineyard and Winery is an award-winning producer of Rhone and Bordeaux-style wines with a focus on all-estate, small lot winemaking. A true boutique winery, Jada produces only 3,000 cases annually.
Grapeline Wine Tours began in Temecula in 2002, and expanded to Paso Robles in 2004 and Santa Barbara in 2007. Serving more than 25,000 wine tasters annually, it is the largest wine tour company in Southern and Central California, and also the top rated wine tour company on popular user-review sites Yelp and TripAdvisor. Grapeline's Signature Series tours are occasional events offering unique wine tasting experiences that are not otherwise available.
The Foodie Wine Tour departs at 10am from all local hotels and concludes at approximately 4:30pm. Pricing is $139 per person, all inclusive. Reservations are required.