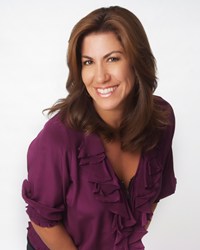 Lisa created a multi-million-dollar home-based business using the product launch plan with 2 toddlers in tow.
La Jolla, CA (PRWEB) July 20, 2013
Queen of Sales Conversion Lisa Sasevich built her small one-on-one coaching business into a multi-million-dollar company while working part-time and taking care of her two young children. In a brand new complimentary 4-part training series, she's sharing her formula for getting paid, growing a business, and reaching more people than ever before with a product launch plan.
Sasevich said in the training, "How to Position Myself," she reveals exactly how teleseminars and a product launch plan - simple and time-tested virtual trainings done over the phone - can be the key to powerful business growth.
Sasevich is offering two video lessons, a product launch plan, and a downloadable "Love Your Life" Blueprint. It culminates in a livestream video training on Wednesday, July 24 at 1 p.m. Pacific/4 pm Eastern.
"If you've already put everything you know in a $19 book or $97 product and now you're trying to figure out how to make money with it, join me for this training on how a product launch plan can transform everything," Sasevich said.
Heart-centered entrepreneurs who join Sasevich for this training learn how to:

Position themselves. This is the Number One thing entrepreneurs must do in a selling situation.
Plant the hook. Create hunger and desire without being pushy or sales-y.
Craft an irresistible offer that sells and that they love.
And more of the pieces needed for a brilliant product launch plan.
"You may already be doing some of the things I'm sharing in this training," Sasevich said. "But no offense, you could be doing it way better. And that's what this training is all about."
Recently honored as one of America's Top Women Mentoring Leaders by WoW magazine, Lisa Sasevich, "The Queen of Sales Conversion," teaches experts who are making a difference how to get their message out and enjoy massive results, without being "sales-y."
Recognized sales expert by Success Magazine, and as one of 2012's fastest growing independently owned companies by Inc. Magazine, Lisa delivers high-impact sales-closing strategies for turbo-charging entrepreneurs and small business owners to great profits. According to best-selling author Brian Tracy, "Lisa Sasevich is one of the greatest discoveries in America today!"
After 25 years of winning top sales awards and training senior executives at companies like Pfizer and Hewlett-Packard, she left corporate America and put her skills to test as an entrepreneur. And in just a few short years, Lisa created a multi-million-dollar home-based business using the product launch plan with 2 toddlers in tow. Lisa is the undisputed expert on how to make big money doing what you love.
For more information, or to sign up for the complimentary product launch plan training, visit: