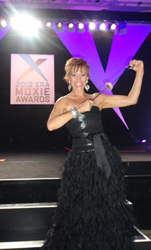 It took me 25 years to become an overnight success - and while the destination is amazing and more than I could have imagined - it's the journey that I wouldn't have missed for anything!
St. Petersburg, FL (PRWEB) July 22, 2013
For the 5th consecutive year, America's leading fitness and lifestyle authority, innovative product creator and 2010 National Fitness Hall of Fame inductee Forbes Riley has received three nominations in the two top categories for the Electronic Retailing Association (ERA) Moxie Awards. This year is unique because she is nominated twice in the same category for the "Best Female Presenter of the Year"—an unprecedented situation, with the third nominee in the category being ABC Good Morning America's former host, Joan Lunden. Forbes also is nominated for "Best Home Shopping Guest of the Year" for the outstanding work she has done with her SpinGym on HSN.
The Moxie Awards, not unlike the Oscar Awards for the movies, is the crowning event for the Direct Response Marketing Industry, recognizing the best in television, radio and online campaigns. As a past multiple award winner, Forbes has been recognized over the years for her excellence in bringing high-quality, affordable healthy lifestyle products to global audiences via infomercials, home shopping, retail, fitness and rehab centers. Some of her highlights include the Jack LaLanne Juicer, the Montel Williams HealthMaster Blender, Urban Rebounder, Mission Athletic Cool Towels and the Forbes Riley SpinGym.
Tom Haire, editor-in-chief of Response, the industry's premiere magazine said, "Forbes is one of the foremost TV hosts and producers I've known in my time in the business. Her passion for and interest in the success of promoting quality products -- and not just in her work on TV -- shines through in every conversation. Forbes' wit and intelligence as one of the most articulate presenters makes her the very best at her craft in the business."
Forbes Riley continues to be an indisputable leader in the Direct Response Industry not only because of her innate ability to communicate and connect with audiences but because of her uniquely diverse background. Recently spotlighted in the Huffington Post as one of America's most exciting entrepreneurs, Forbes Riley's experience began as a stage actress on Broadway combined with Second City Improv training, hosted the nationally syndicated radio network Westwood One, had her own daily talk show on TLC, launched and spent six years hosting ESPN's X-Games, hosted more than 120 national infomercials and this doesn't even scratch the surface of her career. It is this resume that sets her apart from the rest.
It comes as no surprise that for the first time in ERA history, Forbes Riley is nominated against herself in the same category. As best female presenter, Forbes demonstrated seamless diversity as she co-hosted with Myles Bader in the AJ Khubani Telebrands show "Natural Solutions to Things that Bug You!" Forbes was "the girl next door," providing chemical-free solutions for your home, then she transformed into the hip financial executive alongside Adrian Morrison in the Biz Op show "Social Media Profits from Your Home." These two products, though different, both serve to support Forbes Riley's brand and mission to promote health, wealth and happiness.
Michael Planit, a business strategist and leading DRTV marketer commented, "Forbes is forward-thinking, energetic, and one of the most articulate hosts in the business. When she believes, you believe. Forbes will work closely with you to find the right words, and the right way to present your product. If you need your product presented, described, demonstrated, and SOLD, then look no further! Forbes is the consummate professional who knows how to get it done!"
While the taped infomercials described above are certainly award-worthy, to really witness the strength of Forbes's skill, seeing her live is like nothing else. This explains the third nomination Forbes received this year: Best Live Shopping On-Air Guest. In an environment that hosts such recognizable talent as Susan Lucci, Jennifer Flavin Stallone, Joy Mangano, Iman, Tony Little, Serena Williams, Betsey Johnson and even Jennifer Lopez, this is an extraordinary achievement. And yet, it is not surprising since for more than two decades, Forbes and her brand have remained a world-class staple of quality in the world of home shopping, including her own product, SpinGym.
Forbes, now at the top of her career, isn't showing any signs of slowing down. She just signed on to represent the insurance giant iCan Benefit Group and is currently entertaining offers to be the face of several other world class brands. Forbes Riley defines how the infomercial industry has evolved—from the loud aggressive pitches of Billy Mays or Ron Popeil promoting their latest gadgets—Forbes represents a new era of communicating product ideas. There is no yelling and screaming, which is an approach that is especially ineffective for women, because no one wants to hear their mom, wife or girlfriend nag. Instead, Forbes engages audiences in a subtle, truthful conversation about products in shows that can inspire change and innovation—a style that is uniquely hers.
"There is a reason why Forbes is an industry in her own right—she is the quintessential 'success magnet.' That success comes from the fact that Forbes has the unique ability to identify the key reasons a customer will purchase a given product and then connect with that customer in a way that is warm and genuine. Blessed with boundless energy and extraordinary charisma…" said Dave King, celebrity television host.
###
About Forbes Riley™
Forbes, recently named America's Most Loved Health & Fitness Innovator, continues her passion of bringing affordable, high-quality fitness, health and household products to consumers worldwide and is part of an overall mission to help people live stronger, healthier, more balanced lives.
Forbes is a regular presence on televisions worldwide as a product spokesperson and television host--appearing on such networks as ESPN, TLC, Fit-TV, Animal Planet, ABC Family, Home Shopping Network, QVC, The Shopping Channel (Canada), QVC London and has been profiled by Forbes Magazine in the E! Network special "Outrageous Fortunes." As an actress Forbes has appeared in numerous feature films, television shows and even live on Broadway. Forbes also is a health and fitness regular correspondent on Hallmark's Home and Family, NBC's The Doctors and a wide variety of news shows and daytime talk shows.
Forbes can be seen regularly alongside such celebrities as Mary J. Blige, Tori Spelling, Martha Stewart, Kelly Ripa, Wolfgang Puck, and Susan Lucci on HSN promoting her unique brand of lifestyle products including the Award Winning SpinGym. Forbes has built her success on establishing trust with her audience and creating products that are portable, affordable and produce dynamic results.
To add to her inspirational collection, Forbes will launch a series of brightly colored versions of her popular SpinGym fitness sensation along with an arm tightening serum called Sleeveless & Sexy, new celebrity workout dvds and the inspirational book, "e.a.t – a Journal for What You Eat and for What's Eating You."
Forbes Riley's dedication to providing unique solutions and innovative products extends beyond her own products and she has opened her own multi-media production studio located in St Petersburg, Florida, which is used to shoot productions, host masterminds, conduct media coaching and bring people together from around the world. Forbes offers an exclusive one-on-one coaching to get people to achieve their next level of success in health, wealth and happiness.
To join the membership site and gain access to participate on-line to the SpinGym SlimDown Challenge through streaming access of the classes and experience this unique program form anywhere around the globe, please contact tamara(at)forbesriley(dot)com for information and registration.
For more information about Forbes Riley, please visit http://www.ForbesMembersite.com.
About Forbes Riley's SpinGym SlimDown Weight Loss Challenge
A unique fitness program designed by Forbes Riley to address life holistically: health, wealth and happiness and how your whole life "FITS" together. It is much more than a fitness and weight loss program—its focus is on empowering people with information and tools to make life-long changes to live life with greater focus and abundance.
About SpinGym™
Portable, compact, and weighing less than one pound, SpinGym is a revolutionary new fitness product. Its award-winning, modern German design combines the physics of inertia and isokinetics to create a completely unique way to train, strengthen and sculpt the muscles of the arms, shoulders, back and core in just 5 minutes a day. This principle is called GRT, Gyrotronic Resistance Training™, and unlike free weights or gym machines, each rotation of the SpinGym energizes and activates all the muscles of the upper body simultaneously--a breakthrough in the world of fitness. SpinGym not only provides resistance, but because of the rotational forces created--it becomes a complete fat melting, calorie burning total body gym. SpinGym is offered with fitness and cardio workout instructional DVDs.
For more information visit http://www.BuySpinGym.com
About Forbes Riley's Studio
The newest development in the Forbes Riley health and fitness empire is Forbes Riley Studios. This is a 5,000 state-of-the-art television, media and production hub, complete with a sound stage, 450 sq. ft. green screen and conference/event space available for rent. Forbes Riley Studios is a unique interactive center for television, film and media production also offering state-of-the-art teleconferencing capabilities with an emphasis on high security and privacy for visitors. Clients have traveled from around the world and locally to experience the programming offered at the studio. In the recent past, Riley facilitated "Forbes Factor" at the studio, a life and business coaching event for 75 successful women who sought Riley's leadership to help them amplify their success with their professional and personal goals along with film shoots, infomercial productions and other seminars and events.