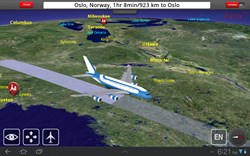 "... the most innovative product yet offered to the IFE market.", Boris Veksler, President, Betria Interactive
Irvine, CA (PRWEB) July 23, 2013
Betria's FlightPath3D commercial product release makes available to the general market a fully integrated in-flight moving map service that can operate as a classic broadcast moving map, an in-seat interactive 3D map or delivered wirelessly to Passenger's portable smart phone & tablet devices. The new FlightPath3D suite also includes a comprehensive Destination Guide & Concierge service which delivers relevant point-of-interest information for each Airport and Destination city to which participating Airlines fly. Each product title can be licensed individually or together as a suite. Betria's new product suite is a platform independent solution designed to operate on any mix of wide and narrow body aircraft and any combination of embedded IFE and/or Wi-Fi systems.
Betria's president, Boris Veksler, offers that "The FlightPath3D product suite is the most innovative product yet offered to the IFE market. We combined a rich and compelling interactive user experience with engaging geo-relevant & destination aware content. Further, the underlying product design is unlike any traditional IFE product. We designed the core technology to allow both the content and the product suite to evolve and expand over time." Mr. Veksler added that "the product is a software-based solution that can operate successfully in any type of connected or disconnected environment and be deployed fleet-wide for any carrier."
FlightPath3D Moving Map Service
Follow along the flight path from your departure airport to your destination using the most advanced 3D interactive technology available in the industry today. FligthPath3D presents the passenger with a realistic and detailed rendering of their aircraft set against a full 3D Earth using combined satellite and street map visual layers. The passengers can follow along as their trip progresses and can select one of many interactive 3D views including HUD or window view, full aircraft view or even free roaming mode to investigate the world below. Rich media elements including audio, video, text and image based points-of-interest augment their experience and create the ultimate geo-relevant "infotainment" service.
Destination Guide & Concierge Service
Engage your passengers with a compelling and informative destination information guide and concierge service. The Destination Guide product seamlessly combines an easy to use atlas style interface with an interactive 3D Earth experience. Passengers can explore their arriving terminal map, navigate city street maps, investigate points-of-interest across the city or region, watch and listen to media describing the destination, book interesting tours and even order free city guides to be delivered to their smart phone upon arrival. It is a truly innovative platform to engage and connect with your passenger and enable advertising & e-commerce services.
About Betria Interactive
Betria Interactive offers the best-in-class in-flight moving map experience through its flagship product FlightPath3D. The FlightPath3D product suite delivers excellence in both the aircraft passenger experience and the end-to-end information service required by airlines, data providers and advertisers to reach this highly desirable and captive audience. FlightPath3D delivers an unparalleled experience and multiple licensing solutions available in almost any application and browser based configuration needed.
Betria Interactive, LLC, is headquartered in Irvine, California with offices in St. Petersburg, Russia. For additional information, please visit http://www.FlightPath3D.com.