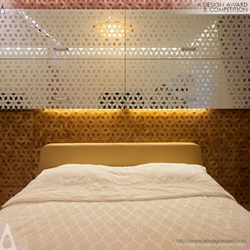 Como, Italy (PRWEB) July 25, 2013
A' Design Award and Competitions are pleased to announce that the work Shanghai by Julia Subbotina became a winner of the famed Golden A' Design Award in Furniture, Decorative Items and Home ware Design Category and picked as one of the winners by the transnational judges of the A' Design Award & Competition amidst numerous participants.
Insights on Shanghai
Shanghai is a multi-functional wardrobe that plays significant role in creation of the room interior, especially in the small spaces. Frontage pattern and simple form act as a decorative wall, and this makes it possible to perceive the wardrobe as an interior component. The wardrobe's main characteristic expands the room space through usage of mirrors within all doors surfaces. Advanced accessories were applied to enable to use the wardrobe without handles while Blu-motion system provides gentle and noiseless opening and closing.
To learn more, please visit: http://www.adesignaward.com/design.php?ID=28200
The Golden A' Design Award
The Golden A' Design Award is a prestigious award given to top 3 percentile designs that has delivered an exemplary level of sublimity in design. The designs are judged by a panel of three different jury which is composed of Academic, Professional and Focus Group Members. The designs are evaluated with score normalization to remove any biases and are voted on aspects such as functionality, ergonomics, engineering, presentation, innovation, usability, fun details, technology, and any other specific points that could be considered, each of these points are further weighted for different jury groups.
About A' Design Award and Competitions
A' Design Award and Competitions, aims to highlight the excellent qualifications of best designs, design concepts and design oriented products. A' Design Award and Competitions are organized and awarded annually and internationally in multiple categories to reach a wide, design-oriented audience. Learn more at: http://www.whatisadesignaward.com.