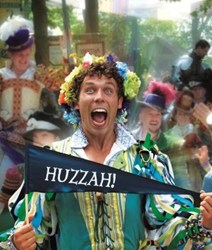 Renaissance festivals provide a sense of being there, making immersion in history both fun and easy for families.
Tampa, FL (PRWEB) July 23, 2013
Renaissance faires and festivals make perfect day away adventures for kids of all ages. The atmosphere, punctuated by entertainment and living history moments, creates a carefree experience difficult to duplicate on your own. The best Renaissance festivals and Ren faires offer families weekend time-travel from the 21st century.
"Educators agree, children learn best by seeing and doing. Renaissance festivals and Ren faires provide parents and grandparents affordable, interactive, educational entertainment resulting in a better understanding of history and culture," according to Nancy Nelson-Duac, Curator of the Good Stuff at http://www.theFamilyTravelFiles.com, and a patron of more than a dozen faires spanning two decades. She goes on to say, "Renaissance festivals provide a sense of being there making immersion in history fun and easy."
The best summertime faires and festivals include Bristol Renaissance Faire in Wisconsin, Pennsylvania Renaissance Faire, New York Renaissance Faire, Holly Michigan Renaissance Festival, and Minnesota Renaissance Festival.
Renaissance faires and festivals are held all year long, some span consecutive weekends while others focus on an annual weekend of fun. The best part of the experience is imagining together about another time and a place when royalty reigned supreme, bards, jesters, and fairy folk mingled with gallant knights, beautiful princesses, and an occasion dastardly dragon. To make planning a weekend time-travel experience, a new folder dubbed "Ren Faires" has been created at the files and populated with additional seasonal locations including the Renaissance festivals, Medieval faires, and Celtic fests.
More terrific family vacation ideas may be viewed at FamilyTravelFiles.com [theFamilyTravelFiles.com __title__ the.FamilyTravelFiles.com] or for the latest family travel news follow The Family Travel Files on Twitter (@FamTravelFiles) straight from the homepage.
About theFamilyTravelFiles.com. Founded in 1998, theFamilyTravelFiles.com researches and posts the good stuff making it easier for parents or grandparents to plan great family vacations. The top-rated online family travel resource offers more than 1000 pages of family vacation ideas and trip planning information. The website specializes in destination and planning information, family travel advice, and family travel deals. The site features a number of vacation idea folders including the newest – Ren Faires and popular favorites - Secret Places, All Inclusive, Reunions, aMAZing Fun, and Away for the Holidays.