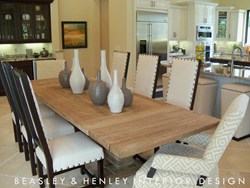 The Naples lifestyle is comfortable and elegant. The area has an incredible pull on people."
Naples, FL (PRWEB) July 22, 2013
Award-winning interior design firm, Beasley & Henley Interior Design has completed two luxury model homes for Stock Development in the prestigious Quail West development.
The models are open for buyers to view immediately.
While the 'snow bird' season in Naples is known to start in the late fall, patterns of visitors are changing, and the area is becoming a year round destination. Models are ready now to cater to these buyers.
The Normandy model is a 4,100 sqft home with an atmosphere of relaxed, sophistication. Led by Principal Designer Troy Beasley, the Beasley & Henley team created sumptuous details such as attractive ceiling designs, inviting flooring with a mix of warm hardwood and smooth limestone, and luxurious countertops in marble and granite. The furnishings in the home feature a comfortable transitional flair with a color palette of tan, grey, and camel tones along with touches of green and gold. The designers also took full advantage of the indoor-outdoor living features and created a large living room and beautiful outdoor fireplace on the large lanai. Located in the Tamworth area of Quail West in Naples, the furnished Normandy is offered for $1,597,785.
Beasley & Henley designed the interiors of the 3,050sqft Astbury model in the Escala neighborhood of Quail West, to create a casual environment with a sophisticated, organic theme. The upholstered furnishings, which are transitional in styling and light in color, are juxtaposed with more rustic casegoods in grays and darker tones. Artwork is a mix of organic and traditional styles with pops of color that enhance the neutral backdrop. Beasley's combination of elements creates a comfortable, high style home. The furnished Astbury model is priced at $1,295,011.
Beasley & Henley is pleased to continue its alliance with growth-focused Stock Development. The design team currently has one Naples model open for viewing with Stock Development - the Regency Manor at Mediterra.
---------------------------------------------------------------------------------------------------------
Beasley & Henley Interior Design is a boutique interior design firm creating luxury model homes and private residences across the US. Their services include interior detailing, specifications, drawings, interior design and furnishings. For more information on Beasley & Henley Interior Design or any of their award winning interiors, including Sand Dollar Awards, please call 239-774-1005 or visit 2241 Tamiami Trail E, Suite 2, Naples, FL. http://www.BeasleyandHenley.com