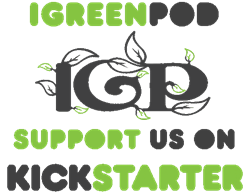 We asked ourselves "What would nature do?" - Shawn Altman
Portland, Oregon (PRWEB) July 23, 2013
The idea for IGP started at a University Business Challenge. Its goal is on connecting artisan roasters to the public, while providing a "return back to the earth" product. This led to a focus placed on creating a sustainable and green coffee pod for the single serve coffee market.
Owner, Shawn Altman, started to notice a trend when developing the iGreenPod Coffee Pod solution. He asked himself, "What would nature do?"
Shawn accepted the challenge and pushed forward to create a 100% biodegradable product. They reached out to chemists and engineers, and eventually found a professor that was able to help create a real solution. After 12 months of hard work, a solution was achieved.
"Creating a truly unique product, that is also "green" was of big interest for us. It gave us a chance to make an impact on the world." - Shawn Altman
"Once we found the right materials to create the pods, it came down to building a prototype. On a small budget we were able to test and prove our idea. We are using Kickstarter to help us continue our research, and bring this product to the market. We are thankful for crowdfunding sites like Kickstarter and look forward to all the feedback." - Shawn Altman
"We created a 100% biodegradable product that can go directly into compost. The cup, and all its packaging, will properly biodegrade in compost within 90 days. The materials being used are recycled natural materials, which are safe for the earth." - Shawn Altman
Having a compostable solution in Portland is good news. The city of Portland Oregon offers weekly compost pick up for the residence as of 2012.
Shawn has been working with Global Samaritan located in Abilene, TX. Through this organization, he has met and started working with a minister in Nicaragua that is helping farmers grow coffee. Many of these farmers were growing drugs, while the communities were being impacted by corruption, crime, and much worse. With the minister's help, these farmers are now growing coffee and changing the economics of the area. No longer is there crime and corruption in these villages. iGreenPod is purchasing this coffee to improve people's lives.
"When we discovered we could buy coffee and change these people lives it was an awakening moment. The product that is being created can truly make a difference on many levels, locally and globally." - Shawn Altman
iGreenPod wants to deliver the freshest coffee possible to it's customers, in a biodegradable package. The company's goals are to deliver coffee fresh to its customers, create a "return back the earth" product, and help reduce pollution at every stage.
About iGreenPod (IGP)
iGreenPod, Inc. is a coffee packaging company in Portland Oregon.
It was formed in an effort to reduce plastics being used in coffee packaging, and provide a green solution to the single serve market. The team has drive and passion for creating earth friendly solutions that will make large impacts to our local and global community.