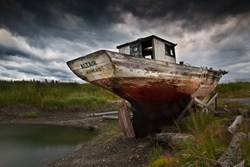 Perth, Western Australia (PRWEB) July 23, 2013
This new collection has uniquely captured the esthetics of vintage and modern trains, planes, automobiles and more. The exhibit, that can be viewed at http://www.barryepstein.com.au, complements other themes for photographer Barry Epstein including landscape, architecture and portraits.
Transport devices are often works of art in their own right and adding years of exposure to sunlight, UV radiation, wind and water, they reveal colorful weather-beaten designs and textures. Some of this collection graphically illustrate a preserved past - signs of their times - that stimulates memories and arouse curiosity. Many photographs of vintage transportation devices capture the asperity and ageing of elements that can be best described through a traditional Japanese Wabi-sabi esthetic. This concept acknowledges three simple realities: nothing lasts, nothing is finished and nothing is perfect (the word sabi means withered). Other photographs in the compilation displays intriguing and modern forms of transportation that clearly captures the exact moment and place to spark interest.
Works in this transportation focused collection have been shot in remote and urban locations around the world including China, Russia, USA, Alaska, Europe, Australia and more.
About Barry Epstein
Barry Epstein is an Australian fine art photographer, medical imaging specialist and life science executive. He was born in Brooklyn New York and raised in New Jersey. He studied biological sciences in Alaska and self taught himself photography as he traveled to remote regions throughout Alaska. After studying medical imaging (echocardiography) at the largest hospitals in New York City, he was instrumental in clinically validating and launching a new diagnostic procedure for heart disease that is now the gold standard. He is currently the Vice President Marketing / Commercialization of a leading biomarker and drug discovery company in Australia - Proteomics International, that is currently commercializing a new molecular diagnostic test for diabetic kidney disease. Barry has co-authored a medical textbook, created award-winning educational films using computer and cell animation, and traveled extensively educating and promoting advancements in health technology.  Barry's dual passions of life science and photography have allowed him to follow his goals in providing better health outcomes on a global scale, while also capturing the beauty and wonder of the world in which we live.  He has exhibited his photographic collections in small galleries in Alaska, New York and Australia and his work is available for exhibit and sale via his website.
Published photo articles
Amazing Karijini- A driving eco-adventure in the Pilbara proved to be a magnificent experience. (RAC Magazine - print)
The Colors Of Alaska: A Photo Journey (Apogee Photo Online Magazine)