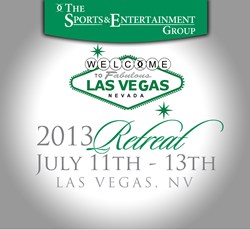 We want to ensure that our clients have the tools necessary to attain great feats during their careers," said Bakari. "Therefore, it is imperative that we start the education process early and make sure it's comprehensive.
Washington, DC (PRWEB) July 22, 2013
Dow Lohnes Sports & Entertainment ("DLSE") hosted its annual athlete retreat from July 11-13, 2013, in Las Vegas at the Bellagio Hotel. DLSE represents more than 35 NFL players and several professional boxers, most notably IBF Junior Welterweight Champion Lamont Peterson, and his younger brother, Anthony.
The retreat concentrated on helping prepare clients to achieve long-term success after their professional careers. The retreat also gave Adisa Bakari, DLSE President, the opportunity to highlight the importance of forging business partnerships among the clients themselves, noting that the potential benefits of combining their resources could increase their impact across varying industries.
"We want to ensure that our clients have the tools necessary to attain great feats during their careers," said Bakari. "Therefore, it is imperative that we start the education process early and make sure it's comprehensive. The retreat is an extension of our mission of ensuring that our athlete clients are equipped with the information necessary to achieve success during and after their athletic careers."
To this end, DLSE brought in expert panel speakers to address the following topics: strategies for building generational wealth, methods for improving post-career planning, tips for managing the media and tactics for securing endorsement deals. In addition, a session on style provided insight into practices that can help generate a better professional image and a more valuable mainstream media persona.
The central business focus of the 2013 retreat was on the business of franchising. According to Bakari, "Several of our clients have expressed an interest in becoming franchisees. As a result, we thought it would be helpful to bring in experts to give them a starting point for understanding franchising and evaluating franchise opportunities." Michael Stone, founder of the Professional Athlete Franchise Initiative (PAFI), and John Draper of V&J Holdings, advised the group on the advantages of franchising as opposed to starting a business from scratch.
"The retreat was a great experience," said client Maurice Jones-Drew of the Jacksonville Jaguars. "The sessions were extremely informative and it provided us with an opportunity to strengthen our bonds."
Other speakers included USA Today's NFL columnist, Jarrett Bell, and ESPN's Josina Anderson, who led a lively discussion on athletes' interactions with the media. Gina Scott of Players' Inc., and Frank Mahar of Genesco Sports discussed the many factors companies consider when selecting athlete endorsers. Facebook's Brandon Gayle directed a conversation about the benefits of brand building through social media. There was also a set of all-player panels - one featured the 2012 draft class discussing the experiences of their respective rookie seasons, and the other involved veteran clients sharing strategies on how to sustain success in the NFL.
While the retreat was serious business, the group took time to celebrate the individual success of each player in addition to the success of the group as a whole. Clients were fitted for designer suits by Alba Designs and participated in a friendly, yet very competitive, bowling competition that pitted the AFC clients against the NFC and boxing clients.
Bishop Charles Mellette, founder and senior pastor of Christian Provision Ministries, Inc., in Sanford, North Carolina, brought the retreat to a close on an inspirational note by encouraging the group to build a life team to help them achieve success in all areas of their lives.
Retreat partners included: Alba Designs, Good Harbor Asset Management, Eddie Bauer, TheraPearl, Bacardi, Shea Moisture, PopChips, Red Bull, Bud Light, NFLPA, NFL, Young Hearted Apparel, North Shore Goodies, Abella Skincare, Flud Watches and Backstage Creations.
To view pictures from the retreat please visit, http://on.fb.me/1bLXmUn
About Dow Lohnes Sports & Entertainment: Dow Lohnes Sports & Entertainment provides professional athletes with a full complement of legal and business services. It evolved as a natural adjunct to the general legal services that Dow Lohnes, PLLC, has been providing to high net worth individual and corporate clients since 1918.