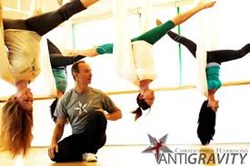 One of the most thrilling -- even not THE most thrilling--aspects of the beautifully designed "Monkey: Journey to the West" is the aerial acrobatics of Anti-Gravity. - Patrick Pacheco (NY 1 Theater Critic)
(PRWEB) July 22, 2013
Christopher Harrison's AntiGravity has a hand in another magnificent Lincoln Center production. Utilizing music, animation and circus arts, the acclaimed Chinese theater and film director Chen Shi-Zheng has staged the epic story of an ancient Buddhist monk's journey in a stage spectacular. Currently playing at the Lincoln Center Festival, AntiGravity provided the original Aerial Choreography.
Monkey: Journey To The West was originally presented in the summer of 2007 as part of the Manchester Theatre Festival in England. AntiGravity's and Monkey's journey took the production to the Theatre du Chatelet in Paris, to the Spoleto Festival in Charleston, SC in 2008, and to the O2 Arena in London in 2009. AntiGravity's Caroline Vexler served as the Aerial Choreographer and Heather Hammond has provided coaching and additional choreography for the Lincoln Center production with acrobats from Jiangsu Yancheng Acrobatic Company.
"One of the most thrilling--even not THE most thrilling--aspects of the beautifully designed "Monkey: Journey to the West" is the aerial acrobatics of Anti-Gravity. The show takes flight when a veritable bouquet of young women fly in from the wings swathed in silk. To the audience's delight, they add a touch of astonishing grace, beauty and agility to the spiritual journey of Monkey and his enlightenment-seeking friends. If this is what heaven looks like, sign me up!"
Patrick Pacheco (NY 1 Theater Critic)
If you are a lover of the acrobatic arts, go see this one of a kind production. It is a rare opportunity that you are sure to enjoy.
"Monkey: Journey To The West" is playing at the David H. Koch Theatre until July 28.