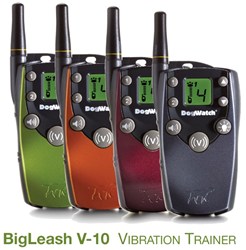 Whenever my dog and I were on a walk and there was the slightest distraction she would ignore me, pull her leash, and bark like mad. With the BigLeash we can enjoy our walks. It only takes the vibrate button to keep her focused. What a wonderful tool!
Natick, Massachusetts (PRWEB) July 22, 2013
DogWatch, Inc., announces expansion of The BigLeash® Remote Trainer brand with the recent release of the V-10 Vibration Trainer. The V-10 Vibration Trainer is a 'shock-free' remote trainer that provides dog owners and dog trainers with an alternative to a traditional remote trainer. The V-10 includes ten levels of vibration and an audible tone.
Remote training devices generally consist of a hand-held transmitter (like a 'remote control') and a collar worn by the dog. The transmitter is used to send a signal to the dog's collar. Remote training devices work well for training your dog to come when you call, to stay and to walk with you "off-leash."
Remote dog training devices can be used to reinforce positive behavior and to discourage unwanted behaviors (jumping, barking, digging, chasing, etc.) They allow you to get your dog's attention even if he is focused on something else or too far away to hear your verbal command. In addition to the benefits of communicating with your dog from a distance (or when he is more interested in chasing a chipmunk), remote training devices allow you to be more consistent with your training message so it is easier for your pet to understand what you want him to do. The timing of the training message can also be more clearly associated with the behavior which helps your dog learn what is expected of him.
Users of the BigLeash Remote Trainer find it to be a highly effective training tool. "The BigLeash has helped with my dog Penny's training in such a huge way. Inside she would obey my commands but whenever we were on a walk and there was the slightest distraction she would totally ignore me, pull her leash, and bark like mad. Now with the Big Leash we can enjoy our walks and it only takes the vibrate button to keep her focused … It is a wonderful tool!" (Kathy B. in Defiance, Ohio).
The new V-10 Vibration Trainer joins the BigLeash S-15 Remote Trainer, a standard remote trainer with 15 levels of stimulation (a static 'shock' like the zap you get from the door knob after walking on the carpet in your socks; it can be uncomfortable but is not harmful.) The S-15 also has an audible tone and vibration.
Both models have several features not found in most other remote trainers, such as a nightlight on the collar (Firefly®) and an LCD screen on the transmitter that gives you useful information about settings and battery status. Another unique feature of BigLeash Remote Trainers is 'In-Touch' 2-way communication that provides a visual reading on the LDC screen of your dog's distance from the hand-held transmitter. This important feature helps ensure that you keep your dog in range of the remote trainer signal. Both BigLeash models provide up to ¼ mile signal range.
All BigLeash transmitters can be set for use with two dog collars, with separate settings for each collar to accommodate the signal level appropriate for each dog. This flexibility lets you tailor the type and intensity of training signals to each dog's individual temperament. The BigLeash receiver collar and handheld transmitter are both powered by rechargeable batteries.
Both the S-15 Remote Trainer and the new V-10 Vibration Trainer are sold online at http://www.BigLeash.com. The website also lists local Dealers who sell the BigLeash. Additional information is available from DogWatch Customer Service, Monday-Friday, 9:00 am to 5:00 pm at (800) 793-3436.
BigLeash Remote Trainers were developed by DogWatch® Hidden Fences, a company founded in 1990 with a mission to help keep pets happy and safe with innovative, safe solutions that protect pets while allowing them the freedom to play outdoors. In addition to their remote training collars, DogWatch is well known for its electronic hidden dog fence systems and their Indoor Boundary systems. For additional information, go to: http://www.dogwatch.com.