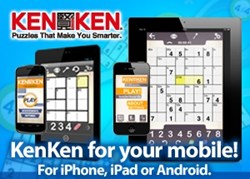 Great App! Love KenKen and am happy to finally have it on my Android.
Pleasantville, NY (PRWEB) July 25, 2013
KenKen Classic has been wildly popular on the iTunes app store since december, and the reviews just keep on getting better and better!
iOS customers are responding to the 5-star app with such comments as:
"Great challenge. Very addictive."
"Love the challenge."
"[I] enjoy logic puzzles so [KenKen] is one of the best around!"
"Excellent time killer. Blends logic and reasoning well."
However, above all, our most common response is simply, "I love it!"
You can find the free KenKen Classic app for iOS devices here.
Now, with the release of the KenKen Classic app for Android devices, customers are even happier! Android players have been saying:
"Challenging and fun. Great game. Nice effort."
"Great brain game."
"Great App! Love KenKen and am happy to finally have it on my Android."
"Kakuro and Sudoku in one! I love this game."
You can download the KenKen Classic app for Android free here.
So, whether you find yourself at home, work or on an adventure, you will be able to enjoy playing KenKen on all your devices!
3...2...1...KenKen
Happy playing!
About KenKen®
KenKen® logic puzzles were first invented in Japan by Tetsuya Miyamoto, promoted as "Kashikoku Naru Puzzle" or the "Makes You Smarter" puzzle, and brought to the rest of world through Nextoy, LLC. With the main goal being to improve students' cognitive abilities in mind, he developed a brain stimulating exercise that would be understandable, fun and challenging for students of all levels. Today, Mr. Miyomoto's classroom vision seems to have become a reality.