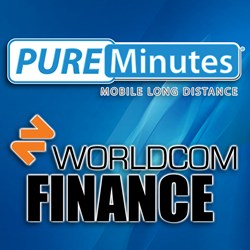 The partnership with Pure Minutes adds value for our clients... [and] will benefit from Pure Minutes quality product and unbeatable prices at our agents
Washington D.C. (PRWEB) July 23, 2013
Pure Minutes and W.I.C. WorldCom Finance Ltd. are privileged to announce a partnership that unites affordable international calling solutions with one of the world's most trusted international money transfer companies. This strategic alliance helps connect Pure Minutes with the large customer base seeking long-distance and international money transfer solutions.
Since 2009 WorldCom Finance has connected to thousands of pay-in and pay-out locations worldwide and the key to their success was through the development of its proprietary international money transfer management software. The company strategy is to create direct links to banks and licensed money transfer locations in destination countries. This strategy has positioned WorldCom Finance as the best priced and best service provider in the county, and is facilitating its rapid gain of market share in Israel.
The network of stores which use WorldCom Finance (link) money transfer software, are automatically part of a rigorous inspection system which examines and cross checks the remitters, the receivers, and total amounts sent. The program forces the user scan an id of the remitter. The id then matched with international black lists provided by leading data check companies, and check the number of times and total amounts sent by the remitter recently. Errors and usual activities block the remitter from making the transaction.
In a world where control over expenses becomes a daily requirement in all aspects of life, both business and personal, suitable solutions are necessary – we research, develop and distribute unique prepaid products in coordination with these requirements. WorldCom Finance aims to be a consumer focused company, by seeing consumer needs and its priorities as its main goal. The strategic partnership with Pure Minutes will allow WorldCom to help its customers find even more convenient ways to top-up their account and take advantage of affordable international calling. WorldCom Finance is in the unique position to lead the prepaid market in Israel and provide its customer with the best cost effective products with an emphasis on service, reliability and quality.
Fred Leon, Senior Account Executive, expressed his thoughts: "We're very excited to have one of the world's most trusted international money remittance companies guiding us into a new frontier." "As a company specializing in providing services to prepaid customers, and understands the real needs of its customers, WorldCom emphasizes in its vision providing precious reliable services at low cost." Yuval Tal, CEO WorldCom Finance, shared, "The partnership with Pure Minutes adds value for our clients, along with fast money transfer our customers can also enjoy cheap phone calls to their love one at home, which will strengthen their sense of reliability and confidence in us as their preferred supplier for financial services." Yuval continues, "Our prepaid customers will benefit from Pure Minutes quality product and unbeatable prices at our agents."
Pure Minutes (link) provides a low-cost international calling solution that works with any phone number, regardless of the current provider. This means that a user can enjoy the benefits of low international rates without needing to change their current land-line or mobile cell phone service provider. Pure Minutes has eliminated the need for physical calling cards through a revolutionary system which instantly recognizes subscribers through automatic caller identification.
The venture allows Pure Minutes to deliver its signature low international rates directly through merchants and distributors through the WorldCom network available around the United States. Users benefit from the simplified process of purchasing a phone to making an affordable international call without contracts or obligation.
About W.I.C.
WIC is a specialist in the payment collection network, developed for cash-payment of bills, cash-payments of services, and cash-prepayments for mobile telephones and energy meters. With 3400 locations in Israel alone, W.I.C is currently the market leader of the Israeli electronic prepaid market and the largest distributer of telecommunications merchandise. W.I.C Group fully owns the following companies and operations: WIC Telecommunications Ltd: largest national distributer of Orange (Partner), and owns a chain of Orange branded stores. EPRS Ltd: Electronic cellular loading of payments, cellular, calling cards, electronic services. Celltime Ltd: Electronic Cellular loading on Retalix and on VeriFone POS. Focal publishing Ltd: the only publisher of newspapers and magazines for the foreign communities in Israel. WorldCom Finance Ltd: international money transfers and prepaid debit cards.
About PureMinutes
Pure Minutes is a leading provider of prepaid international long-distance calling solutions. We provide an affordable communication solution that offers flexibility, portability and ease-of-use for both landline and mobile users. PURE Minutes offers competitive international calling worldwide with no hidden fees, no maintenance fees, no contract required, and minutes that never expire. PURE Minutes service is sold on the web and through regional and national retailers including WorldCom and is available to customers worldwide.
Follow us on Twitter (@PUREMinutes), Facebook (facebook.com/PUREMinutes), and LinkedIn (PUREMinutes, LLC) for up to the minute updates.
###