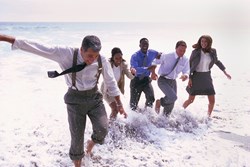 Kansas City, MO (PRWEB) July 23, 2013
Although a study done by the Incentive Research Foundation showed that incentive travel programs do many positive things like improve the workplace culture, promote employee satisfaction and improve performance, a recent informal client survey by Cruise Dreams demonstrates programs can and should do even more.
"A well-planned program should do a number of things or you're not getting your money's worth," explains Kim Gibbons, founder and president of Cruise Dreams an agency known for group travel and group cruises. "Many are structured to reward achieving goals and improve employee morale – that's great but we add the Cruise Dream extras. Every trip or cruise includes a totally unique experience that the employee is unlikely to be able to arrange on their own. That's the missing ingredient from many incentive trips."
Gibbons says creating those sorts of memorable moments go a long way to demonstrating how valued the employees (or customers) are and fostering a high level of loyalty in return. It's part of what separates a travel incentive from cash or gift card promotions. Cash often gets spent on bills and expenses and selecting your own gift loses any sort of feeling of having been singled out and being part of something customized. Travel incentives provide unforgettable experiences for the employees, taking them to destinations that they may have never dreamed of going before.
If the goal is to reward employees for achieving performance based milestones and encourage employees to work for a tangible goal, well-designed specialty travel programs do more than companies can imagine. Best of all, they are mutually beneficial – the employee feels motivated and valued which increases productivity and commitment, and companies reap the benefits of the motivated and loyal employee.
Cruise Dreams, provides incentive cruises and all-inclusive land programs for companies across the globe. Some of the more memorable include African safaris, private catamarans with the songs of whales, folklore show in the desert outside of Marrakesh, hot air balloon rides, customized road rallies, cooking classes and other unusual excursions or events. Most programs feature local culture with memorable corporate events, exotic sightseeing, teambuilding and more. Cruise Dreams strives to provide a unique incentive travel program that makes an employee feel that a great deal of thought has gone into rewarding them and that their efforts are truly appreciated.
A Cruise Dream incentive travel package is unique. Companies can find out more about the Cruise Dreams difference and their worldwide network of trusted travel partners that ensures the highest quality for their excursions, tours and events.
Cruise Dreams is a specialized travel agency focusing on group travel and group cruises as well as corporate incentive travel by land or at sea. Well-known and respected in the industry, they are not only a top producer but a noteworthy innovator. No matter what kind of group travel you plan, a cruise, full ship charter or a stay at 5-star all-inclusive luxury properties world-wide, Cruise Dreams provides expert advice and savings. They specialize in designing unforgettable trips worldwide! For more information, visit http://www.cruisedreamgroupescapes.com or call 1-877-999-4533.