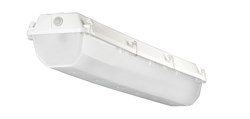 The VPL and VPK have been engineered to meet the unique needs of parking structures
Yorba Linda, Calif. (PRWEB) July 22, 2013
Precision-Paragon [P2] has released two new LED lighting products for parking garages. Today the manufacturer announced the VPL fixture and VPK retrofit kit, designed to improve visual comfort, safety and appearance in parking garages while significantly cutting energy and maintenance costs.
"The VPL and VPK have been engineered to meet the unique needs of parking structures," said Russell Price, [P2]'s director of engineering. "They allow facility owners to reduce their energy and maintenance costs while significantly improving the overall quality of lighting."
Many of the LED fixtures commonly used in parking garages come standard with undesired glare. In contrast, the VPL and VPK diffuse light over a larger area. This design minimizes glare and increases the visual comfort of drivers in the parking garage.
By minimizing glare and providing even, uniform lighting over a wide area, the VPL and VPK help to improve both the safety and security of parking garages.
The VPL parking garage LED fixture comes in an IP67 rated housing that can withstand wash down pressures of 1,500 psi. The VPL parking garage LED fixture meets the stringent DesignLight Consortium® (DLC) performance requirements, and delivers efficacies of between 97 and 103 lumens per watt. The VPL product family is listed on the DLC Qualified Products List, and eligible for many currently available utility rebates.
The VPK is a retrofit kit that uses the same optics and LEDs as the VPL. It allows owners of [P2]'s fluorescent VTG and similar fixtures to upgrade their lighting to the latest LED technology while keeping their existing housings and fixture bodies.
The VPL fixture and VPK conversion kit are compatible with a variety of daylight and occupancy sensors. With sensors, the LED powered lighting can dim to provide multiple light levels or even turn off completely when it's not needed.
"One of the most effective strategies to reduce energy consumption and to enhance safety and security for parking structures is to incorporate controls into the design," said Joe Martin, [P2]'s vice president and general manager.
Both the VPL LED parking garage fixture and VPK retrofit kit are available now. Technical information and ordering guides can be found at http://www.p-2.com, or by calling the [P2] Service Hub at (714) 386-5550.
---
About Precision-Paragon [P2]: For over 20 years, [P2] has made high-quality, indoor-and-outdoor light fixtures for a wide range of applications in retail, commercial and industrial spaces. [P2]'s energy-efficient lighting drastically cuts energy consumption, creating big cost savings and significant environmental benefits.
Over the last two decades, [P2] has earned a reputation for going the extra distance in customer support by producing high quality, American-made products. [P2] products are manufactured in Gainesville, Fla., Hudson, Wis., and at the company's headquarters in Yorba Linda, Calif.
Web site: http://www.p-2.com