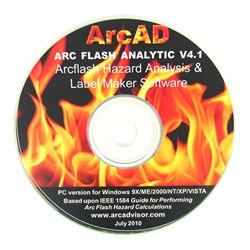 "The arc flash hazard calculator really made our job of evaluating our electrical system much easier. A must have product for any business!"
Lake Oswego, OR (PRWEB) July 24, 2013
Arc flash calculator software can analyze arc flash hazard calculations and the impact that system changes have on energy levels and personal protective equipment requirements known as PPE for arc flash hazards. Creative Safety Supply is now offering arc flash hazard calculator software to make it easier to evaluate facility's electrical systems and avoid potential fines, lost productivity, and increased insurance.
Creative Safety Supply offers three calculation models, 3.2, 4.1, and 5.0. More information about what each version is capable of supplying can be viewed at http://www.creativesafetysupply.com. The calculator-style interface makes complex calculations easy to understand. Facilities can design safer power systems while insuring compliance with NEC 110.16, OSHA, NFPA 70E, and IEEE 1584 standards. The software can calculate arc blast explosion pressure and arc TNT equivalent. It can perform analysis using metric (mm, Joules), imperial units (inches, calories) and a business can save time by generating arc flash warning labels in electronic .JPG and .BMP. Creating appropriate arc flash warning stickers or NFPA 70E standard rating labels in English, French or Spanish is easy with an industrial label maker, like the LabelTac thermal label printer, also available through Creative Safety Supply.
An arc flash calculator can be used to determine incident heat energy at a particular distance and the category of personal protective equipment (PPE) required. Reducing the electrical energy delivered to the arc flash event will reduce the amount of heat generated. This decrease in incident heat energy usually reduces the category of PPE required, enabling personnel to work more easily and efficiently. A business owner commented, "The arc flash hazard calculator really made our job of evaluating our electrical system much easier. A must have product for any business!"
For more information about Arc Flash Hazard Calculator Software, please visit Creative Safety Supply or call toll-free (866)777-1360 to speak with a professional representative.