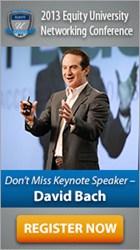 The conference will include insights from industry titans, as well as from many everyday investors who will reveal how they are successfully taking control of their financial futures with self-directed IRAs.
Cleveland, OH (PRWEB) July 23, 2013
Equity Trust Company is excited to announce that personal finance expert David Bach is the keynote speaker at the fifth annual Equity University Networking Conference, to take place September 19-23 in Orlando, Florida.
Bach, former senior vice president of Morgan Stanley, is the author of eight consecutive national bestsellers, including two consecutive #1 New York Times bestsellers, Start Late, Finish Rich and The Automatic Millionaire. He is regularly featured in the media, including guest appearances on The Oprah Winfrey Show as well as regular appearances on CNN's Larry King Live, ABC's Live with Regis and Kelly, The View, NBC's Today and Weekend Today shows, CBS's Early Show, Fox News, and CNBC.
The conference, billed as "the premier self-directed investing event of the year," will also include insights from industry titans, as well as from many everyday investors who will reveal how they are successfully taking control of their financial futures with self-directed IRAs.
In addition to providing ample networking opportunities (more than ever before) among more than 500 like-minded investors and industry experts, the three-day conference offers a steady stream of useful wealth-building strategies and tactics. The agenda will feature more than 40 sessions on multiple self-directed investing topics, often delivered by real people who are succeeding in today's dynamic market, including:

Alternative investing strategies for investors of all experience levels
Building wealth with various types real estate investments
Acting as a bank to grow your retirement fund
Actual clients who are winning with self-directed investments, and how to replicate their success
Much more!
The conference takes place at the Omni Orlando Resort at ChampionsGate. Those interested in attending the conference are encouraged to register now before admission increases on July 31, 2013. Additionally, Equity University has secured a limited number of rooms for attendees at the Omni Resort at the discounted rate of $139 plus tax/night.
A Self-Directed IRA enables an individual to invest his or her retirement savings in the stock market as well as alternative investments like real estate, renewable energy, precious metals and much more. The conference meets the need for quality education on this attractive investing approach, which continues to grow in popularity due, in part, to current economic conditions and market volatility.
Register now for the 2013 Equity University Networking Conference or get more information at http://www.equity-university.com/NetCon. Registration can also be completed by calling 888-382-4727, ext. 393.
The previously scheduled keynote speaker, Bill Rancic, is no longer able to attend due to a scheduling conflict.
About Equity Trust Company
Equity Trust Company, with its corporate headquarters in Greater Cleveland, Ohio and operations in Waco, Texas and Sioux Falls, South Dakota, is at the forefront of the self-directed retirement plan industry. The Company specializes in the custody of alternative assets in self-directed IRAs, Coverdell Education Accounts, Health Savings Accounts and qualified business retirement plans. Along with its affiliates, Equity Trust Company provides services to more than 130,000 individuals and businesses nationwide with approximately $12 billion in assets under custody. Since 1974, the company and its affiliates have helped investors make tax-free profits through education, innovation, and a commitment to understanding individual needs. Visit http://www.TrustETC.com for more information.
##