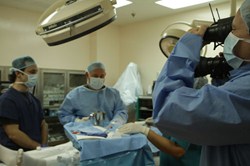 "The HIFU procedure offers patients certain advantages that other more traditional treatments may not. It is a minimally invasive, non-surgical and radiation-free treatment which is performed as an outpatient procedure," said Dr. Blumenthal
COLUMBIA, MD (PRWEB) July 24, 2013
Dr. Kevin Blumenthal and Central Maryland Urology Associates' High Intensity Focused Ultrasound (HIFU) Program was highlighted on the Discovery Channel's Larry King Profile Series for performing a breakthrough minimally invasive treatment for localized prostate cancer. The episode aired on Wednesday, June 26 at 7:00 am.
Dr. Blumenthal conducted the featured HIFU treatment at the Doctors Hospital in Nassau, Bahamas, one of several facilities in North America where HIFU is offered for the minimally invasive treatment of prostate cancer. Since 2008, more than 500 patients have received the HIFU treatment at Doctors Hospital and more than 12,000 men have been treated worldwide using the Sonablate® 500 HIFU system. The Sonablate® 500 is approved for use in more than 30 countries outside the U.S. for the treatment of prostate cancer. The Sonablate® 450 is currently being studied for the treatment of prostate cancer in clinical trials in the U.S.
Central Maryland Urology Associates HIFU Program was established in 2010 for the treatment of localized prostate cancer using HIFU. Board-certified in urology, Dr. Blumenthal is one of a few urologists in the Mid-Atlantic region and the first in Howard County using HIFU. Dr. Blumenthal, who has been performing HIFU procedures for three years, has been trained and mentored by Dr. Stephen Scionti, one of the preeminent HIFU surgeons in North America and a pioneer in the field.
"The HIFU procedure offers patients certain advantages that other more traditional treatments may not. It is a minimally invasive, non-surgical and radiation-free treatment which is performed as an outpatient procedure," said Dr. Blumenthal. "There are lower rates of incontinence and impotence while importantly maintaining a person's quality of life. This allows us at Central Maryland Urology Associates to offer our patients every possible treatment option which other facilities may not be able to offer."
Prostate cancer is the most common non-skin cancer in men, and is the second leading cause of cancer death in men after lung cancer. The American Cancer Society estimates that more than 230,900 new cases of prostate cancer are diagnosed in the United States every year. There are a number of different options for how prostate cancer can be treated, each has its own risks and benefits. Primarily patients choose between watchful waiting, surgery, and different types of radiation therapy. According to Dr. Blumenthal, new emerging prostate cancer treatments such as HIFU are becoming increasingly popular because they are minimally invasive and preserve patient quality of life.
International HIFU, a subsidiary of SonaCare Medical, LLC., supports physicians in the delivery of care with the Sonablate® 500. International HIFU's North American Treatment Centers enable U.S. patients and physicians to gain access to HIFU technology for prostate cancer in locations where it is available for use, including Nassau, Bahamas; Cancun and Puerto Vallarta, Mexico; Bermuda; and Montreal and Winnipeg, Canada. The Sonablate® 500 is approved for use in more than 30 countries outside the U.S. for the treatment of prostate cancer.
About HIFU
HIFU concentrates high frequency ultrasound waves from a transducer (which focuses sound much like a magnifying glass focuses light) into a small ablation zone. At the ablation zone, the temperature rapidly raises causing complete cellular necrosis, destroying all targeted tissue while leaving untargeted tissue unharmed.
About Central Maryland Urology Associates
Central Maryland Urology Associates, the only urology practice exclusively serving Howard County for over 30 years, is a state-of-the-art urology practice, comprised of 7 urologists located in Columbia, Maryland, half-way between Washington, DC and Baltimore, Maryland. Our philosophy is simple: we want to best serve our patients. The CMUA mission is to provide the highest quality of urologic care for our entire community through innovation, service excellence, compassion, and patient safety. For more information on Dr. Kevin Blumenthal and HIFU, go to http://www.marylandprostatecancer.com.