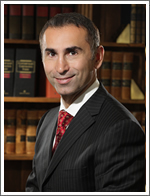 Rodney Mesriani, Esq. - Mesriani Law Group
Top Personal Injury Lawyers in California
Los Angeles, CA (PRWEB) July 24, 2013
Expert Los Angeles personal injury lawyer, Rodney Mesriani, Esq., expresses concern on the increasing rate of fatal car crashes involving teenage drivers aged 16 to 19.
According to the California Department of Motor Vehicles (DMV), traffic crashes are the leading cause of death for teenagers across the United States, with traffic accident rates for 16 to 19 year old drivers being higher than those of any other age group (Teenage Driver Crash Statistics).
Top Los Angeles personal injury law firm headed by Rodney Mesriani, Esq., reminds the parents and the teenager drivers themselves to be more careful on the road, especially during this summer season where it is generally known to be more dangerous for drivers and commuters to be out on California roads because of the increase in the number of people drinking and driving during this summer and over the holidays. "Being involved in car accidents entail serious consequences. Aside from property damage, it is not unlikely that during car accidents in California, car accident victims, both drivers and passengers, will suffer various personal injuries, from scrapes and bruises, to spine injuries, fractures and even head trauma and brain injury, with the very unfortunate ones leading to wrongful death", Mr. Mesriani adds.
According to the latest report by the California Office of Traffic Safety (OTS) through Fatality Analysis Reporting System (FARS) posted on the DMV website (California Traffic Safety Score Card) (Revised Mar. 2013), teenage driver fatalities (age16-19) has increased in recent years, with male teenagers making up 71 of teen driver fatalities. The primary risk factors, as enumerated by the DMV, include: (1) Poor hazard detection; (2) Low risk perception; (3) Risk taking; (4) Not wearing seat belts; (5) Lack of skill; (6) Alcohol and drugs; (7) Carrying passengers; and (8) Night driving.
As one of the leading Los Angeles personal injury lawyers, Rodney Mesriani, Esq. has handled countless personal injury claims, including car accidents, bicycle and bike accidents, motorcycle accidents, pedestrian accidents, bus accidents, truck accidents, train accidents and even boating accidents and plane or aviation accidents. "In cases like teenage negligent driving or drunk driving, more often than not, the parties involved in these collisions don't survive the car crash, especially if the vehicle accident involves a head on collision or a crash at high speed. Hence, police authorities as well as the DMV should be more vigilant in pursuing and prosecuting drunk drivers, teenage negligent drivers and other reckless drivers, especially during this summer where a lot of families go out on the road to enjoy their summer vacations".
Mr. Mesriani, leading car accident lawyer in Los Angeles, California stresses that in car accidents, the victims definitely have a right to claim damages against the negligent driver. Aside from property damage for the damage or destruction of the involved vehicle, car accident victims are also entitled to actual medical costs, future medical care, loss of earnings and pain and suffering. All the more, for those whose loved ones were killed in any type of car accident like teenage car accidents or drunk driving accidents, they have a right to file wrongful death lawsuits against the negligent party and recover additional claims for emotional distress; loss of consortium, support and companionship, among other damages.
Mesriani Law Group's highly competent personal injury lawyers in Los Angeles, California have been representing all victims of personal injury cases even in cases of fatal accidents like teenage driver fatal car crashes or drunk driving accidents for over two decades now. As of date, the highly competent auto accident attorneys of Mesriani Law Group have obtained millions in awards for all their car accident clients on account of their relentless pursuit to claim the highest compensation every California vehicle accident victim deserves against negligent and reckless drivers.
About Mesriani Law Group, P.C.
Mesriani Law Group, is a California personal injury law firm founded by Rodney Mesriani, Esq., which specializes in handling all types of injury related accidents such as vehicle accident, truck and bus accident, motorcycle accident, bike accident, hit and run, drunk driving accident, uninsured motorist claim, slip and fall, pedestrian injury, construction injury accidents, premise liability, dog bite attacks, brain injury, spine injury, burn injury, pool drowning accident, product liability, wrongful death claim and even boating accident and aviation accident claims.
Mesriani Law Group's top auto accident attorneys in California offer aggressive legal representation against the party at fault, whether the vehicle owned by a is private, commercial or government entity, with an extensive grasp of vehicle accident laws in California, as well as years of experience in dealing with all types of car insurance overage's. The law firm's best Los Angeles personal injury lawyers are based in 5723 Melrose Ave., Suite 200, Los Angeles, CA 90038. To learn more about the firm, call 1.866.998.2545 for a free case evaluation or email them at rodney(at)mesriani(dot)com or take advantage of their free online case submission.